Make in India and Swachh Bharat have made their big bang debuts, but a lot more is expected from Modi.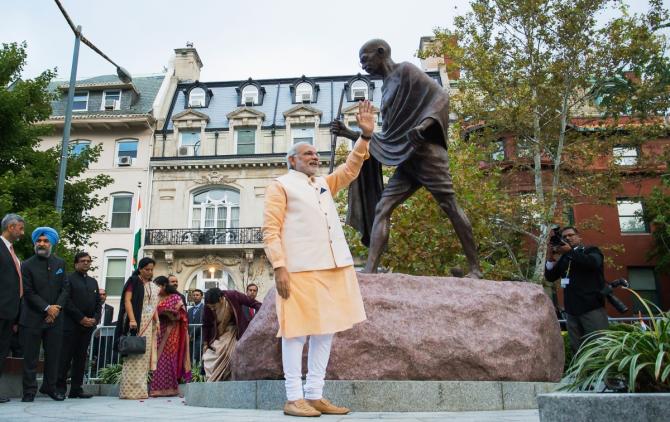 Image:India's prime minister Narendra Modi in front of Mahatma Gandhi's statue in Washington. Photograph: Reuters.
Most governments, including the United Front of the mid-1990s, enjoy a one-year honeymoon of goodwill from the intelligentsia and the chatterati before the sheer ungovernability of India causes disenchantment and the urge for change.
In that sense, the Narendra Modi government has proved a contrarian. It has taken less than that time for the sense of disillusionment to set in.
The unhappiness of his most articulate and moneyed group of supporters, business and industry, is already evident (the denials from Confederation of Indian Industry chief Ajay Shriram can safely be ignored). But even his more liberal votaries who had convinced themselves he would "change" once he came to power at the Centre - that is, become more communally inclusive - are beginning to have misgivings. Not that you'd get the impression of inactivity.
A thoughtful speech from the Red Fort on Independence Day set out a sensible agenda.
Make in India and Swachh Bharat made their big bang debuts.
The worshipful manner of some of India's most powerful businessmen at the former event was an indication of their desperation for the advent of achhe din after seven years of langour and cynical welfarism. Sturdily worded tweets emanate daily from the prime minister's twitter handle and all his multifarious social media accounts are as active as any teenager's.
In less than six months, the chief executive of India's government has managed to get photo-ops with leaders of all the world's great powers. He convinced the world's most powerful leader to agree to be the chief guest at our next Republic Day celebrations.
Every day, on and around Raisina Hill senior bureaucrats, businessmen, industry lobbies, think-tank experts of various hues and the Prime Minister's Office are engaged in some consultative meeting or the other.
Even as he scrapped four standing committees of Cabinet in June to make good on his "more governance, less government" pre-poll slogan, Mr Modi and his government appear to have compensated by setting up an impressive number of other panels of one kind or another.
Here is a partial list: on solar power, environment, expenditure management, railways, for the eradication of kala-azar by 2015, to identify obsolete laws, to examine railway finances, to assess unclaimed PPF deposits, to review Parliamentary security, to review the status of the University Grants Commission, to examine the potential of GAGAN, the satellite-based navigation system being developed by the Indian Space Research Organisation, in non-aviation sectors ...
Then, if Maharashtra's newly minted chief minister, Devendra Fadnavis is to be believed, a "high-power committee" - the kind all governments love best - directly under the prime minister will be set up to fast-track the development of Mumbai. Committees and related groupings are beloved of all governments - the National Democratic Alliance's predecessor was no different.
But Mr Modi was widely expected to deliver measurable impact given his alliance's brute majority in the lower house and Lion King approach to governance - or so the business community liked to tell everybody.
But increasingly, doubts are being raised as to whether he is able to deliver at all with such a centralised approach in a country as frustratingly complex as India, more so because he has hand-picked a council of ministers that resembles a Greek chorus and a fairly comic one at that.
The upshot is that India appears to exist in two dysfunctional parallel universes.
In one, the depressing numbers about stagnating industrial growth, rising bad loans, shrinking bank credit, poor tax collection rates and, now, near-deflation continue to roll in.
In the other, the tawdry faces of populist fundamentalism have usurped the public discourse: Love Jihad; Ghar Wapsi; Sanskrit First; Hindi Supreme; Gita As National Holy Book; some obscure sadhvi who holds a fairly important portfolio apologising in Parliament for employing the language of the gutter to describe non-Hindus at a public rally; another member of Parliament apologising for calling Gandhi's assassin a patriot; proposals to replace celebrations of Jesus' birthday with those for Atal Bihari Vajpayee and Madan Mohan Malaviya …
The prime minister has only just thought fit to request the Parivar not to cross a Lakshman Rekha, though he has not specified where the abusers should draw the line.
Nevertheless, it is good that he has realised that all this is absorbing energy and attention at a time when there's so much work to be done on fixing the economy.
Indeed, by the amoral standards of our time, much of this provocative rhetoric would have been overlooked had there been signs of life in economic policy.
For instance, it is true, as columnist Bharat Bhushan pointed out, that communal violence was rampant under former prime minister Vajpayee's regime.
But where Mr Vajpayee calmly repudiated these tragedies as local outbreaks and focused on the few things he could and did deliver - road building and disinvestment - Mr Modi is promising many things and showing few signs of delivering anything. Granted big bang reforms may take some time.
But like Mr Vajpayee, the current prime minister has the luck of low energy and commodity prices as a starting point from which to deliver, at the very least, some critical small bang reforms.