Govt continues to dither on anti-dumping duty against cheap Chinese steel imports; risk of steel sector NPAs looms large as production is unviable.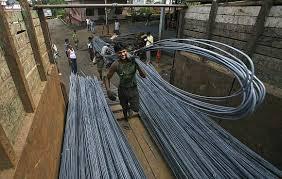 The central government's Make-in-India initiative is making waves abroad.
But in India, the story is different. Steel makers in the country are finding it difficult to make products in India.
The country imported 9.31 million tonnes (mt) of steel in FY15, an increase of 71 per cent over the previous year, as producers are capping production.
Indian steel prices are quoting higher than global prices, because raw material costs are significantly higher in the country.
A ban on iron-ore mines has pushed production down to 115 mt in FY15 from 218 mt in FY10.
While iron ore prices globally have dropped to $50 per tonne, from a peak of $152 per tonne in 2013, Indian iron ore prices have declined by merely Rs 650 per tonne over the period.
Crude steel producers are choosing to run plants at low utilisation levels, as it is not viable to produce or sell steel at prices which are higher than imported steel prices. Seshagiri Rao, joint managing director and group chief financial officer of JSW Steel, says: "This time there is a peculiar situation.
"Domestic slowdown has resulted in China turning into a big exporter of steel.
"Also, globally all other currencies have depreciated, making their exports more viable. "In India, the situation is compounded, because costs remain high and there is no tariff or non-tariff barriers against cheaper steel imports."
Also, the rupee has depreciated by merely four per cent against a sharp drop in other currencies.
Other than India, several countries have raised trade barriers against cheaper Chinese steel imports.
With a total annual capacity of 1.16 billion tonnes, China accounts for nearly 50 per cent of the world's steel capacity. In order to offset the slowdown at home, Chinese steel mills have been flooding world markets with steel products at throwaway prices.
In November 2014, the US imposed anti-dumping duties of up to 100 per cent on Chinese steel wires. In February 2015, the European Union imposed a 25.2 per cent duty on sheet, coil, and strip from China and up to 12 per cent duty on Taiwanese products.
In India, there is an import duty of five per cent on long products and 7.5 per cent on flat products.
Because of free trade pacts, there is negligible duty on steel from Korea and Japan.
The steel sector has been crying for a solution but the government has done nothing to prevent the dumping of Chinese, Russian, and Korean steel into India. Ankit Miglani, deputy managing director, Uttam Galva Steel, one of the largest manufacturers and exporters of value-added steel, says: "Steel plants in India are shutting due to a lack of ore. Though steps have been taken to ease the situation, there is no clarity on when the iron-ore mines will open and supplies will improve.
"Until the domestic issues are resolved, the government will need to support the sector to tide over this crisis."
In Karnataka, 54 sponge iron units have shut.
Bigger companies are running plants at low utilisation levels. Vishal Agarwal, managing director, Visa Steel, says: "Given what China is doing, the Indian government needs to act fast, if it is serious about its Make-in-India campaign as far as the steel sector is concerned."
The shortage of iron ore and coal in India has pushed up prices of key raw materials, pushing Indian steel prices higher than global prices of crude steel.
For instance, hot rolled coil in India is upwards of Rs 30,000 per tonne, while an import, after duty, is not more than Rs 28,000 per tonne.
China is exporting steel at an annualised rate of 120 million tonnes, which has put pressure on steel prices globally.
Dilip Oommen, chief executive and managing director of Essar Steel, says: "Ore prices internationally are down 60 per cent, but in India, this has not happened.
"Also, gas prices are still very high and we hope the government will look at gas pooling for the steel sector, too.
"Currently, there is a provision to increase the duty to 15 per cent for steel imports, but duties have not been increased. We require some quick action." India imported 15 million tonnes of iron ore in FY15.
Ideally, iron ore prices should not be more than Rs 1,000-1,500 per tonne in India, but they have remained between Rs 3,000 per tonne and Rs 4,000 per tonne.
This has resulted in the cost structure for Indian steel producers without captive iron ore mines staying higher than imported steel products.
The skewed sectoral dynamics and weak demand will have an impact on the financials of the steel makers.
Deutsche Bank Research says weak demand and weak steel pricing have affected volume off-take and forced capacity shutdowns in the secondary steel sector, which may manifest themselves in the form of continued stress on non-performing assets of small and medium-sized enterprises.
Currently, 23 per cent of restructured assets in the banking system are from the steel sector.
These will fall back into the non-performing assets basket if the situation persists.
Integrated steel companies have been insulated from cheaper imports as they have captive coal and iron-ore mines, which have kept their production costs low.
But, with royalties and duties going up and pricey bids of cancelled coal blocks, the going is getting difficult for all steel makers.
BALLS OF FURY
WHAT?
Indian steel capacities operating at low levels, as domestic steel prices stay high
India imported 9.3 million tonnes of steel in FY15 as Chinese steel is cheaper
Domestic steel sector cries foul as India is among those with the lowest duty structures against Chinese steel
WHY?
Indian steel makers at a disadvantage as raw materials in India are more expensive
Due to a mining ban on iron ore, steel makers forced to buy ore locally at prices higher than global prices
Prices of iron ore drop by $100 a tonne in world markets over the past one year
Indian ore prices down by Rs 650 a tonne
WHAT NEEDS TO BE DONE?
India needs to follow the US and the European Union (EU) examples and raise both tariff and non-tariff barriers against cheap low-grade steel products
India has a provision to raise duties against imported steel to 15 per cent
The actual duty varies from one per cent to 7.5 per cent
The EU imposed a 25 per cent duty and the US imposed up to 110 per cent tariff against Chinese steel
The image is used for representational purpose only. Photograph: Jayanta Dey/Reuters