While number of commitments inched up in 2015, its value slipped 23% to 11-year low.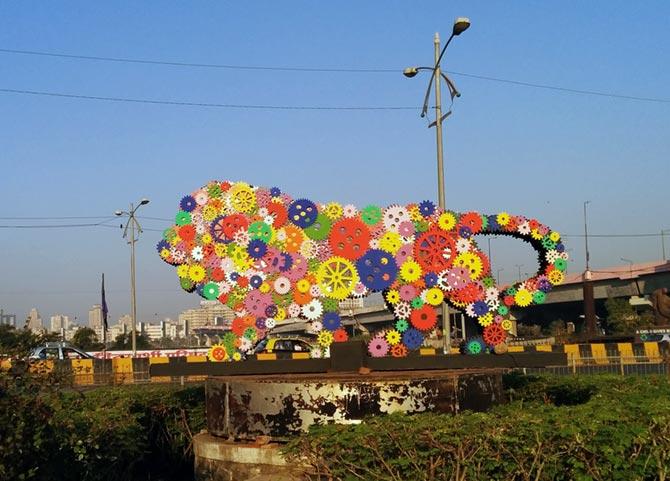 Image: Proposed investment in the industrial sector was down at Rs 3.11 lakh crore. Photograph: Rajesh Karkera/Rediff.com
Denting tall success claims of the Make in India campaign, data released by the government show investment proposals in the industrial sector, in value terms, were at an 11-year low in 2015.
During the year, proposed investment in the industrial sector was Rs 3.11 lakh crore, down 23 per cent from Rs 4.05 lakh crore the previous year (2014). In 2010, it was Rs 17.36 lakh crore, according to data from the Department of Industrial Policy & Promotion (DIPP).
While the number of proposals inched up by eight per cent to 1,990 in 2015, from 1,843 the previous year, it was the second lowest in more than 10 years - suggesting lack of confidence among investors in taking up large, high-value projects.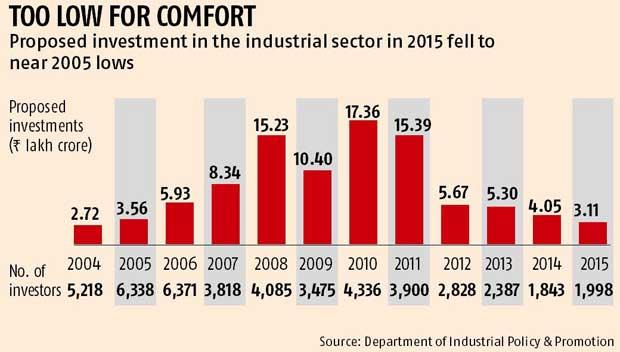 The data pointed to a weak investment outlook and bleak domestic demand, sparking posers on the Bharatiya Janata Party-led government's efforts to push growth in industries, particularly in manufacturing.
In 2015, the Reserve Bank of India cut interest rates by 125 basis points to 6.75 per cent, to revive domestic demand and investment.
Actual investments were down one per cent to Rs 77,972 crore in 2015, from Rs 78,747 crore the previous year.
Maharashtra got the highest actual investments, worth Rs 18,854 crore, followed by Madhya Pradesh (Rs 17,277 crore) and Karnataka (Rs 13,780 crore).
In Gujarat, actual investments were down to Rs 5,991 crore, about a third of Rs 15,478 crore in 2014.
A senior DIPP official told Business Standard actual investments being more or less stagnant over the past two years could be attributed to persistent deflation.
At the Make in India Week in Mumbai last week, investment commitments worth Rs 15.2 lakh crore were secured, with host state Maharashtra alone accounting for Rs 8 lakh crore.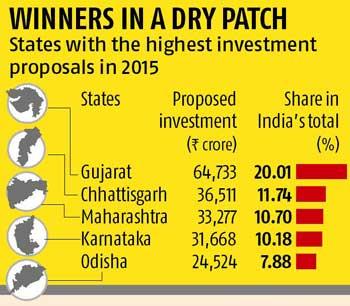 Domestic investments data, however, painted a contrasting - and glum - picture, even as the government is trying to increase the share of manufacturing to 25 per cent of gross domestic product by 2022. At present, it is 17 per cent.
Also, India is trying to break into the top 50 of the World Bank's Doing Business ranking - it is one of the key objectives of the Make in India initiative. At present, India's rank is 130.