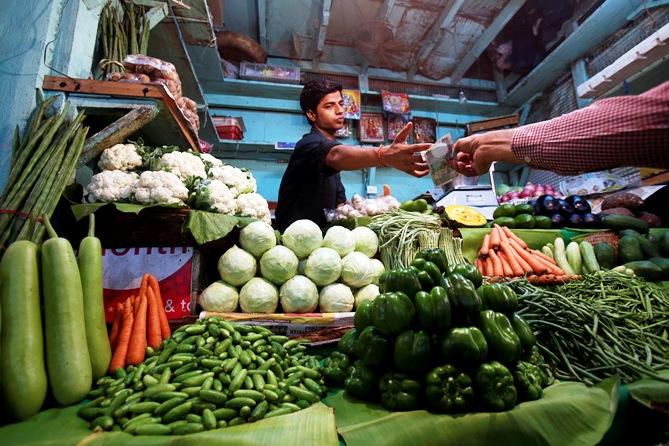 Supply disruptions fuel price rise as wholesalers go on an indefinite strike
Prices of vegetables and fruits have skyrocketed in the last two days in Mumbai and its suburbs on supply disruptions following an indefinite strike by wholesalers in nearby mandis against the Maharashtra government's proposed move to cut their trade commissions.
Retail prices of vegetables have jumped by up to 40 per cent since wholesalers decided to go on strike on Tuesday.
After hitting Rs 100 a kg, tomato slumped to Rs 60 on government intervention but the price bounced back to Rs 85 a kg due on lack of supply.
With an overall weight of 1.74 in the wholesale price index and 6.04 in the Consumer Price Index, rising vegetables prices may push food inflation.
Ahead of a move to delist fruits and vegetables from the Agricultural Produce Markets Committee, the Maharashtra government has registered over 700 farmers producers companies in the last few months for smooth distribution of fruits and vegetables in the state.
FPCs procure fruits and vegetables directly from farmers and distribute them among themselves for retailing.
But they cannot meet the entire supply of around 3,000 tonnes of green vegetables for Mumbai and its suburbs. Supply has remained deficient by at least 50 per cent, resulting in the price rise.
"Direct selling will benefit farmers and consumers," said Shri Ram Gadhave, president of the Vegetables Grower Association of India.Farmers receive an estimated 35-40 per cent of the price of vegetables paid by consumers.
Vegetable wholesalers are protesting against the government's proposal to restrict them from collecting eight per cent commission from farmers.
"We pay farmers upfront and buy in bulk without any security.
"We also help farmers with their livelihood or medical expenses.
"A commission of eight per cent is the only source of income from our investment, we cannot simply do charity," said Sanjay Bhujbal, a vegetable vendor at the Vashi APMC.
A little away from the city in the northern suburbs, vegetables are 15-30 per cent costlier.
Apple sells for Rs 160-200 a kg, a rise of nearly 20 per cent in two days.
Vegetable prices started firming up early this year on low production in a drought year.
Vegetable prices rose 60 per cent in New Delhi, Kolkata and Chennai.
The Maharashtra government convened a meeting of wholesalers, which remained inconclusive. It has decided to discuss the issue again on Thursday.
Image: A vendor accepts money from a customer at his vegetable stall at a wholesale fruit and vegetable market in Mumbai. Photograph: Vivek Prakash/Reuters