Maharashtra government is expecting an entertainment tax of Rs 15 crore (Rs 150 million) from the 16 Indian Premier League (IPL) matches to be held in the state.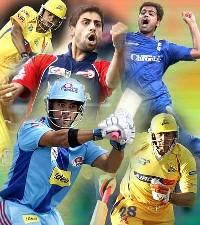 "A deposit of Rs 7.3 crore (Rs 73 million) has been collected for the IPL matches organised at the Wankhede stadium in the city out of the expected revenue of Rs 9.5 crore (Rs 95 million)," said Minister of State for Revenue Prakash Solanke informed the Legislative Council.

"Seven matches have been organised at the D Y Patil stadium in Navi Mumbai for which a deposit of Rs 4.86 crore (Rs 48.6 million) has already been received. The expected collection of entertainment tax from the matches in Navi Mumbai is Rs 5.5 crore (Rs 55 million)," he said.

The government would get Rs 15 crore (Rs 150 million) from the IPL and has got Rs 6.48 crore (Rs 64.8 million) from the World Cup matches as entertainment tax, Solanke said.

The Minister was replying to a discussion on the Mumbai Entertainment (Improvement) Bill, 2011 for a better entertainment tax structure in the state. The Council passed the Bill after discussion and sent it to the Assembly.

However, Shiv Sena MLC Diwakar Raote pointed out that the word IPL has not been mentioned in the amended Bill.

It is not clear if the tax would be levied on bars and pubs, he added. Solanke said that tax on IPL cricket matches as well as on pubs was all mentioned in Entertainment Tax Rules 1923 section 3 and needed no separate mention in the amended Bill.