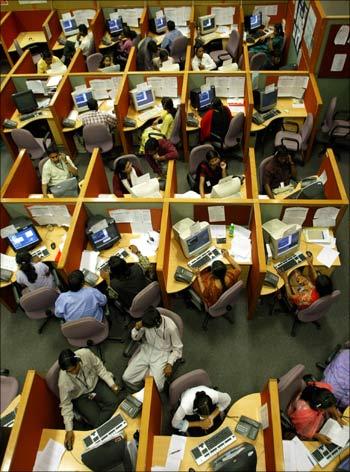 Units employing up to 49 workers are not required to list themselves with the government.
States are again jumping ahead of the Centre to bring about crucial labour reforms.
In a move that industry thinks will make doing business easier, the Maharashtra government has allowed factories employing fewer than 50 contract workers to function without registering themselves with the authorities concerned. The threshold was 20 earlier.
The law department, according to a notification, has changed the Contract Labour (Regulation & Abolition) Act to make it applicable to establishments in which 50 or more workers are employed. This means units employing up to 49 workers will not be required to list themselves with the government.
"The change has been done to bring down regulatory complications. So that big investments can come to the state and create employment opportunities, we will ensure strict compliance with the law," said Shweta Singhal, deputy secretary, labour.
As the Centre is dithering on changing labour laws, an initial promise of the Narendra Modi government, before stiff resistance from trade unions, Bharatiya Janata Party-ruled states such as Maharashtra, Rajasthan and Madhya Pradesh have been persisting with it.
A labour ministry official said the Centre was unlikely to take a major step on labour reforms because initiating such measures at state level was much easier.
"States need to understand that such changes will be favourable to them for creating jobs. Cooperative federalism is always positive," the official said.
According to reports, the Centre has made changes to the draft of the Factories Act, 1948, to allow states to take the call on the threshold on the number of workers to be covered under the law.
Prime Minister Narendra Modi, in an interview to a foreign publication, said that "big-ticket reforms" would be driven by states.
Rajasthan took the lead by relaxing the provisions of the Factories Act, Industrial Disputes Act, Apprentices Act and Contract Labour Act.
Similarly, Madhya Pradesh has amended at least 20 labour laws, including the Industrial Disputes Act, Factories Act, and Shops and Establishments Act.
Gujarat, another BJP-ruled state, has amended the Labour Law (Gujarat Amendment) Bill, 2015, which prohibits strikes in public utility services.
Trade unions say they see no positive impact of labour law reforms on the job market.
"Have we seen the job situation improving in those states? No. Have we seen vigilance going down? Yes. These are attempts to snatch away the fundamental rights of workers. We took to the streets in Rajasthan, and we will oppose this too," Brijesh Upadhyay, general secretary of the Bharatiya Mazdoor Sangh, the trade union wing of the BJP, told Business Standard.
Experts say while the central government is stuck on labour law reform, it is nudging state governments, which are in competition to attract investment.
"If the Union government is unable to introduce comprehensive investor-friendly labour laws at national level due to political resistance, it will remain incumbent on states to decide if they want to take the political risks to enact difficult reforms such as deregulating labour laws," said Owen Jolie, researcher with the Centre for Strategic and International Studies.
Image used for representational purposes only.