Analysts say large firms in these segments don't need loan recast due to the efficient manner in which many of them operate.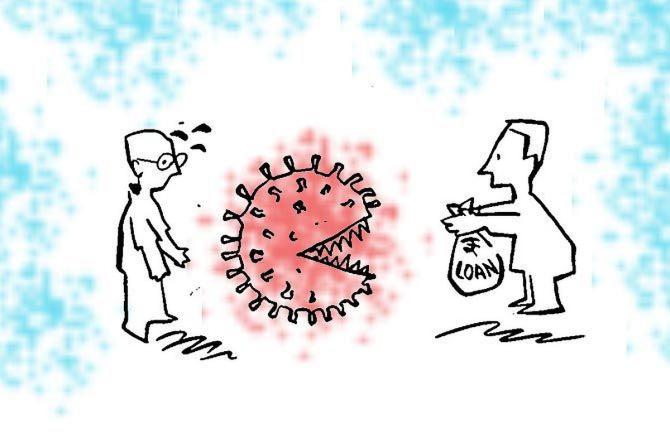 The recommendations of the K V Kamath-led expert committee on loan restructuring, approved by the central bank on Monday, has limited impact on retail, media and food services industries, experts tracking these markets said.
The above-mentioned sectors are part of the list of 26 categories identified by the committee for loan restructuring.
Analysts, however, say that large firms in these three segments don't need loan restructuring owing to the efficient manner in which many of them run their operations.
Also, the discretion to restructure loans ultimately rests with banks, they say.
"Though small and medium enterprises have debt on their books, the question is whether banks would agree to restructure loans or not.
"At the same time, most of the large firms are not highly leveraged," said Anand Agarwal, chief financial officer, V-Mart Retail.
Future group, which was the most leveraged among large retail firms in India, announced a sale of its retail assets to Reliance, transferring its liabilities as part of the deal.
Others such as Trent, Titan, Westlife Development and Jubilant FoodWorks are net-debt free, said sector experts, implying they do not require this window at all.
The only exception here is Aditya Birla Fashion and Retail, whose net debt at the end of the June quarter stood at Rs 3,250 crore.
In a post-results analysts call last month, the company said that it proposed to bring down net debt to Rs 2,000 crore by the end of FY21 by improving working capital efficiency and utilising some proceeds from its rights issue of Rs 1,000 crore.
"Again, large companies have enough avenues available to them to raise money. So who really needs the loan restructuring?" asks a retail analyst, who declined to be quoted for this story.
A report by Nomura released on Tuesday said that almost 30-50 per cent firms across sectors do not meet the criteria for loan restructuring.
The Kamath committee had prescribed financial aspects including those related to leverage, liquidity and debt serviceability.
In the case of retail, for instance, nearly 43 per cent of companies, Nomura said, are not within the prescribed band, if debt to equity ratio is taken into account.
In the case of restaurants, it is nearly 37 per cent.
While nearly 34 per cent of fast-moving consumer goods and durable companies are out of the purview of loan restructuring, since their financial parameters don't match.
The brokerage has not given an indication for multiplex companies in its report.
Nomura also says that past loan restructuring exercises have resulted in significant ratings downgrades and write-offs for companies.
This has compelled firms to be careful before taking the plunge, a strategy that many are expected to use in the current round as well.