India's gig workers continue to be without any social security cover or a minimum wage guarantee.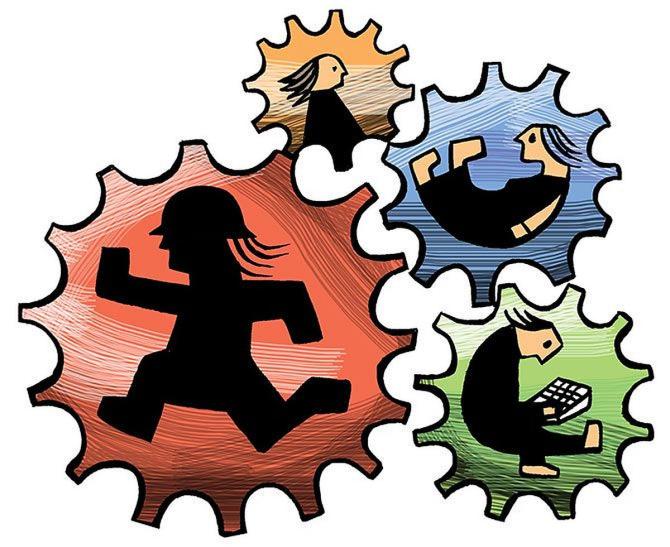 The recent protests by employees of Urban Company and the case of a a Zomato delivery executive who died in a road accident point to the severely straitened condition of gig workers during the ongoing Covid-19 pandemic.
Budget 2021 had promised several measures to help the cause of gig economy workers, but most of them are yet to see the light of day.
Even after a year, the country's gig workers continue to be without any social security cover or a minimum wage guarantee.
"In Budget 2021, finance minister Nirmala Sitharaman had announced that the government is looking toward including migrant and gig workers for social security benefits," says Srinivas Kotni, managing partner, Lexport, a consulting firm.
Parliament had passed the Code on Wages in 2019 and Code on Industrial Relations, Social Security and Occupational Safety, Health and Working Conditions in 2020.
However, the schemes meant specifically for gig workers have not moved past the draft stage.
And gig workers continue to be at the mercy of employers that do little to protect their labour rights.
Take the case of Salil Tripathi, the Zomato executive who lost his life after being hit by a police car while he was on duty.
A government welfare scheme in addition to Zomato's one-time accident coverage payout, would have helped his family.
According to reports, Zomato paid the man's family around Rs 10 lakh as accident coverage.
A Zomato spokesperson said that this policy covers all its active delivery partners, or all those who have completed at least one order in the previous 14 days.
Experts have voiced their concern on this, saying that Zomato should not arbitrarily deactivate the accounts of delivery agents.
"There have been instances of deactivations without redress and unclear policies," says Sarayu Natarajan, founder of Aapti Institute, which researches the intersection of technology and society.
According to an IndiaSpend Report, the e-Shram portal, launched last year to help workers in the unorganised sector avail the government's social security schemes, had registered 130 million workers.
Reportedly, over two-thirds of the gig workforce are yet to be registered.
Similarly, as part of the labour code reforms, it was proposed that the safety net of the Employees State Insurance Corporation (ESIC) would be extended to gig workers.
But this, too, has not come into effect.
Raunak Singh, partner at law firm Avitr Legal, says: "When an employee is covered under the Employees State Insurance Act 1948, dies (in cases where deaths occurs due to employment injury or occupational hazards), the employee's dependents are entitled to receive monthly payments at a certain specified rate of deceased's wages."
Currently, gig workers are not entitled to any such provision.
Under the Code on Occupational Safety, Health and Working Conditions, employers are required to ensure that the workplace is free from hazards which might cause injury and provide free annual health examination, among others.
Gig workers are not covered under this either.
Other than the financial stress, gig workers also suffer from mental trauma because of the arbitrary hire-and-fire policy of these firms.
Speaking on the condition of anonymity, a Zomato agent said that they are largely left to the mercy of either the customers or the company.
"After the pandemic began, Zomato started with a drop-at-doorstep service.
"In one instance, I got a call after 25 minutes that the food was not delivered although I had updated the delivery status in the app.
"Instantly, Rs 850 was deducted from my account.
"Some form of government intervention would have helped my cause," he said.
The cancellation of orders is yet another problem faced by food delivery agents.
Minimal service fees, tips and harassment by different sections of society, add to their misery.
Moreover, the rating system and the tip service in these apps often do not work.
A number of workers have complained that tips are often not forwarded to them.
Besides, they are regularly fined and harassed by the police because they are under pressure to deliver within a stipulated time.
Says Mathew Chacko, a partner at Spice Route Legal, a leading law firm, "E-commerce entities structure their operations in such a manner as to not pay benefits to the gig workers.
"Indian laws do not take the nuanced approach that some other countries do to protect gig economy workers," he says.
An Uber driver this correspondent spoke to said that he joined the cab-aggregator firm in 2017 as it was a lucrative prospect back then.
But over time, Ola and Uber started reducing their prices. From saving over Rs 50,000 earlier, he manages to save just about Rs10,000 now.
"All the costs of running the car (CNG, repair and so on) are paid by us.
"In addition, there is no policy to ensure our safety even though there have been multiple reports of crimes like carjacking and murders of cab drivers.
"Still, we continue to do this job as there is hardly any other job left to do," he said.
It's not just food tech or ride-hailing firms where gig workers are vulnerable to unfair company policies.
Reportedly, in December last year, Amazon had not paid its workers in Hyderabad their salaries for over a month.
Zomato, Swiggy, Amazon and Uber did not reply to queries till the time of going to press.
Experts believe that the Social Security Code is a step in the right direction when it comes to the welfare of gig workers.
The Code requires the setting up of a National Social Security Board for delivery partners.
However, the government has not specified a timeline for its formation.
Countries around the world are waking up to the extreme vulnerability of gig workers.
Earlier this month, a court in Zurich ruled that Uber drivers are not 'independent workers' and hence are eligible for benefits.
In September last year, a Dutch court said that Uber drivers are employees and not independent contractors and are entitled to greater worker rights.
In July 2021, China, too, instructed some of its major e-commerce platforms to better protect the rights of the gig workers and 'deeply understand the needs of workers, increase supervision of employment partners' protection of rights…'
India needs to move in a similar direction.
As Natarajan of Aapti Institute says, "We need a clear legal/policy lens on viewing this work under the rubric of the employer-employee relationship.
"Some companies have been more proactive in offering protections for workers, but this is not regulated and is left to the will of the company."