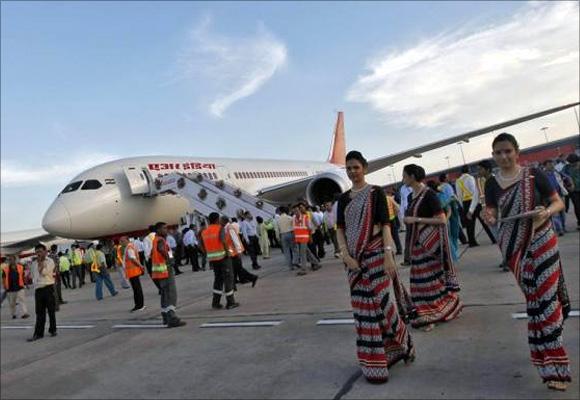 The new chairman and managing director of Air India, Ashwani Lohani, wrote to employees on Friday, listing out his priorities towards reviving the ailing national carrier. He admitted the airline had "lost sheen" in recent years and the "situation needs correction".
Lohani also noted the airline was going through a "grave crisis" and asked employees to give their best, instead of working for "petty personal interests".
He said safety, enhancing passenger experience, improvement in engineering set-up, on-time performance, cordial worker-management relations and better service would be crucial to revive Air India's 'lost glory'.
"Air India is a brand, a brand symbolising the nation, especially amongst the Indian diaspora and travellers overseas. Unfortunately, in recent years, the brand apparently has lost some of its sheen," Lohani said in his letter dated September 11. In the letter, which was reviewed by Business Standard, he added the airline had been "repeatedly questioned" on its performance and its "delivery has fallen short of the national expectations".
"This situation needs correction and having full confidence in the capability of fellow Air Indians, I am certain that the brand would again re-establish itself," he said.
A 1980 batch officer of the Indian Railway Service of Mechanical Engineers, Lohani joined Air India on Monday last week.
Before this, he was heading the Madhya Pradesh Tourism Development Corporation and was credited for its turnaround.
His joining was welcomed by pilots' stir and a recent incident where an Air India flight made an emergency landing at the Delhi airport. In the latter incident, around 145 passengers were evacuated after smoke was spotted in the aircraft's wheel. Five passengers were hurt during the operation.
The incident had created a panic among the passengers and critics raised fingers towards the airline's ageing fleet.
In his letter, Lohani said safety would be "paramount and there shall be no compromise on that front".
To improve passenger experience, he said there should be improvement in the aircraft cabins "and above all a happy smile on the face of every employee of Air India."
He laid emphasis on the higher reliability and availability of aircraft. He said initially the airline should work towards a target of achieving 90 per cent on-time performance of its planes.
This means, 90 per cent of its planes should be arriving and departing on scheduled time. The airline's on-time performance has been quite poor compared to its private peers and in July, it stood at a low 73.4 per cent.
Lohani said the management would take pro-active steps to ensure staff grievances even as he said there would be "zero tolerance to indiscipline". Last month, a few Air India commanders had reported late to work, delaying flights, to mark their protest against some labour law changes.