The simultaneous decline of several trade-related indicators should put policy makers on guard for a sharper slowdown.
Illustration: Uttam Ghosh/Rediff.com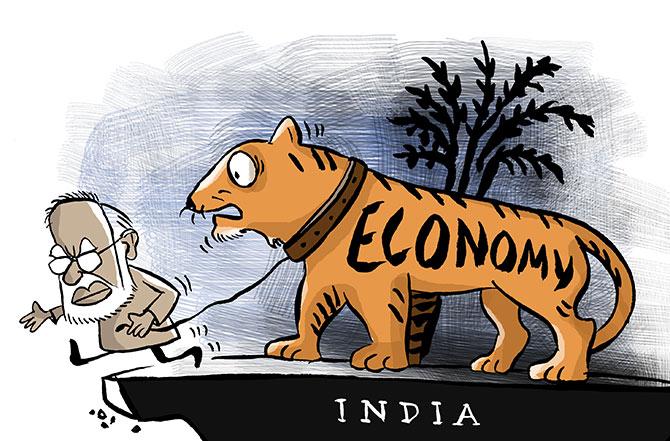 Financial year 2019-20 (FY20) begins on a rather sombre note, despite expectation of a rate cut by the Reserve Bank of India (RBI) and buoyancy in the equity markets.
Various global and domestic factors are at play, casting doubts on achieving a sustained and robust economic recovery.
Global economic growth is expected to decelerate this year.
In a report issued two months earlier, the International Monetary Fund estimated 3.7 per cent for 2018, as in the October 2018 World Economic Outlook forecast.
Despite weaker performance in some economies, notably Europe and Asia, the global economy is projected to grow 3.5 per cent in 2019 and 3.6 per cent in 2020, respectively 0.2 and 0.1 percentage point below last October's projection.
The World Bank said global economic growth would lessen to 2.9 per cent this year, from a downwardly revised 3 per cent in 2018, citing 'rising downside risks' to the outlook.
A World Trade Outlook Indicator issued last month by the World Trade Organization (WTO) says trade weakness is likely to extend into 2019.
The simultaneous decline of several trade-related indicators should put policy makers on guard for a sharper slowdown, should current trade tensions remain unresolved, says the report.
The rupee is around 69 to a dollar, thanks to speculative inflow in the stock markets.
This could hurt export and encourage import.
However, RBI is unlikely to intervene in the foreign exchange markets - its stated policy is to act only for curbing excessive volatility.
So, export is unlikely to accelerate this year and domestic producers might even see erosion of their pricing power.
The United States has alleged at the WTO that our export promotion schemes are actually subsidies that should be abolished.
It appears the Merchandise Exports from India Scheme (MEIS) will not survive the challenge at WTO's dispute resolution process.
The government has said it is working on schemes compatible with the WTO discipline.
The precise implications can be gauged only when details of these are known. However, the impact of possible MEIS withdrawal cannot be under-estimated.
The US has served a notice to withdraw duty concessions it had extended to India under the Generalised System of Preferences.
Our commerce ministry has downplayed the impact of the action, arguing concessions worth only $190 million are at stake.
Still, it is likely to affect the export of price-sensitive items.
The impact would be more if other developed countries follow suit.
Domestic consumption is showing signs of revival, with increased social sector spending.
However, important job-generating sectors such as automobiles and construction are not growing.
Keeping in view the low inflation rate, RBI might cut interest rates to boost domestic consumption and revive private sector investment.
However, higher consumption might also mean more of import, rather than significantly higher capacity utilisation by domestic industries.
It is more than likely that the government diverts more funds to enhance the capabilities of our armed forces, thus cutting the allocations for infrastructure and the social sectors. Again, this is likely to mean more import.
Overall, it is better not to get carried away by slogans of better days ahead.