Kishore Biyani-led Future Group on Friday launched its food retail venture, Foodhall, which targets affluent consumers. Here, Biyani talks about the group's latest venture and the recently listed company, Future Ventures.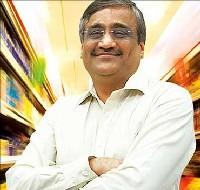 Pantaloon's same-store sales in value and fashion have been one of the lowest in the past five quarters. What is the reason for that?

In March, there was an issue of excise duty and stock did not reach the stores. Secondly, winter got extended and summer sales were not much.

But we will catch up with April (sales figure). Month-on-month, it was only seven to eight per cent lower in March.

Future Venture shares are trading at around Rs 8 as against the issue price of Rs 10. Are you worried?

Why should I feel worried? I am disappointed, not worried. It is the best company we have ever created, but unfortunately we have not been able to make the people understand. However, it is the finest thing India could ever get.

The stock has not picked up despite Pantaloon and other group companies buying into it. Please explain.

That does not matter. Pantaloon was supposed to invest, it would have invested that much if the issue would have come at Rs 11. That money was available to us.

That is why we invested. There was no other reason. People are looking at it otherwise. That money was lying in escrow account and when it was available, we invested it.

You have KB's FairPrice, Food Bazaar, Food Right in food retail, why did you think of opening one more food chain? What are the plans?

Customers want formats which have wide assortment, international products, and so on. Basically, it is an assortment play.

In food retail, there is concept of 'good, better and best'. Foodhall (the new food chain) has better and best, but a Food Bazaar may also have good.

We plan to open 15 stores of Foodhall in a year, in all the major metros and malls. The largest one is coming up on MG Road in Bangalore.

But you have not opened new stores of Food Right after acquiring it from Shoprite? Do you think it is a one-off experiment?

No. We are expanding Food Right stores. It is a much larger format. It is a food-driven high-end format. It will be there everywhere.

What is the contribution of food in your overall revenues? Where will you see it in the next three years?

Food contributes 30-35 per cent of our overall revenues. We are investing a lot in food through Future Ventures in food processing centres, fast moving consumer goods (FMCG) products and so on.

In the next three-four years, we want it to be the largest food and FMCG company in the country.

What are you doing with Future Fresh?

It is into supply chain of fruits and vegetables. We are sourcing from across the world, from New Zealand to Canada and everywhere. Our strategy on fruits is bearing fruits now.

I think fruits will turn into one of the biggest businesses for us. We are setting up supply chains of both fruits and vegetables.

We are also coming up with some consolidation centres with world-class technology and processes. We will be able to give consistency and quality in fruits and vegetables in the long-run.