Says India stands to gain by setting up a level playing field instead of creating trade barriers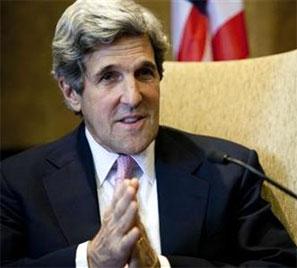 US Secretary of State John Kerry, on his way to India for an official visit, has pressed New Delhi to drop its opposition to global trade reforms, saying it was a test of the country's commitment to advance trade and investment liberalisation.

Kerry made the call in a newspaper article, penned along with US Commerce Secretary Penny Pritzker, hours ahead of his arrival for talks aimed at revitalising ties that have been mired in disputes over trade, intellectual property rights and climate change.

India has threatened to block a worldwide reform of custom rules, saying it must be accompanied by a parallel agreement allowing developing countries more freedom to subsidise and stockpile foodgrains.

The deadline for the deal, which economists say could save members of the World Trade Organisation more than one trillion dollars eventually, is Thursday.

Kerry said India stood to gain by setting up a level playing field instead of erecting trade barriers.

"In this regard, as we work with our trading partners around the world, India must decide where it fits in the global trading system. Its commitment to a rules-based trading order and its willingness to fulfil its obligation will be a key indication," he said in the article in The Economic Times.

India and the United States have already clashed at the WTO, with Washington saying Delhi's 11th hour resistance could kill a deal that could create 21 million jobs.

Kerry is arriving in New Delhi later on Wednesday for an annual strategic dialogue, the first engagement with the government of Prime Minister Narendra Modi that took power in May promising to put India back on a high growth path.

So far, the new administration has moved slowly on reforms and its hardening of stance at the WTO suggests a more nationalist response on key issues than the Congress party's centre-left government.

Kerry said India and the United States were on the cusp of an "historic transformation" in their relationship and that Washington stood behind New Delhi's rise as a political and economic power.

"We are coming to India to deliver a single message: that the US is prepared to be a full partner in this effort. We will work hand in hand with Prime Minister Narendra Modi and his government to promote open and liberal trade and investment, jobs training and closer strategic ties," Kerry and Pritzker wrote.

Such rhetoric, including calls to build India as a counterweight to China, have however fallen short of concrete progress in the past.

Disputes over protectionism and intellectual property rights have soured the business climate and India has remained cautious about committing to US strategic designs in the region.

The relationship took a dive last year after an Indian diplomat was arrested in New York on charges of mistreating her domestic help, an episode that provoked outrage and resentment in New Delhi.

Modi himself has yet to make clear how closely he plans to work with Washington.

He was banned from visiting the United States after Hindu mobs killed more than 1,000 people, most of the Muslims, in 2002 while he was chief minister of his home state of Gujarat.

The Obama administration sought to turn a new page by quickly inviting Modi to Washington after his election, and he is due to travel in September.