Kerala floods take a toll on small businesses, NBFCs brace for losses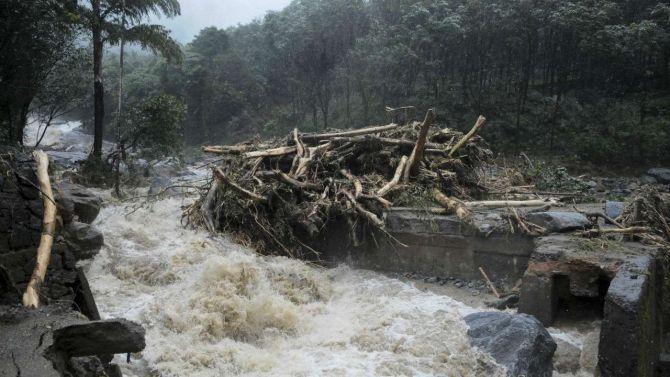 The floods in Kerala have hit small businesses in the state, mainly in the retail, agriculture, plantation and tourism sectors.
The adverse effect is expected to be felt on some banks and non-banking financial corporations (NBFCs) with a sizeable exposure in the state.
And, to some extent, on tyre makers - 85 per cent of the country's rubber production is from Kerala.
The state government pegged initial loss at around Rs 200 billion, but industry says it will be much bigger.
N Dharmaraj, chief executive at Harrisons Malayalam Ltd, part of the RP Goenka Group, said there has been considerable wash off in top soil and this will impact land productivity in both the tea and rubber markets.
Prices will improve in the short term because of low arrivals but will not be enough to negate the huge crop loss.
Ajith Balakrishnan, secretary, Association of Planters of Kerala, estimates a Rs 700-800 crore loss, excluding in infrastructure, for the plantation sector.
Only crop losses have been estimated so far. Tea production is expected to have a loss of 200 kg per hectare, or Rs 180-200 crore. For cardamom, it is a 45-50 per cent loss and 40 per cent for rubber.
Nothing can be expected from the sector in September and October; the latter is traditionally the best month for these crops.
Rajiv Budhraja, director-general, Automotive Tyre Manufacturers Association (ATMA), said the existing gap between production and demand for rubber would widen.
In the first quarter of this financial year (April-June), more than 40 per cent of the demand for natural rubber had to be met from imports.
For banks, non-performing assets (NPAs) will increase.
For NBFCs, the main impact could be in the form of accretion in fresh slippages (into NPAs) and a rise in credit cost, especially for small businesses, along with a weakening credit growth profile, said Emkay Research.
Federal Bank, South Indian Bank, Catholic Syrian Bank and Dhanalakshmi Bank have a sizeable exposure to Kerala while big NBFCs include Manappuram and Muthoot.
All this will put pressure on repayment, while the demand for credit in the retail and housing sectors will also see a rise, said the head of a private bank.
An assessment on losses would take another 10 days, said Shyam Srinivasan, managing director and CEO of Federal Bank.
"Agricultural loans in Kerala in the formal banking system are not a big thing. Cooperative banks will be affected because of this.
"Retail businesses may be affected but they will bounce back in the long term because everybody will now need a television and a refrigerator (again) and there is a higher remittance coming in," he said.
Manufacturing industries such as Carborundum Universal and Cochin Shipyard said their facilities in Kerala were working and there was no major impact on the infrastructure due to the deluge.
For automobile and fast-moving consumer goods (FMCG) makers, Onam festival buying not taking place is not good news though replacement demand could be a saving grace.
Onam contributes nearly 30 per cent of annual car sales. Last year, Kerala saw sales of around 18,000 cars and a surge to 27,000 units was expected this year.
The FMCG sector has seen heavy losses and the most affected would be the distributors, said V Ayyappan Nair, president, Kerala Distributors Association.
There are around 7,000 FMCG distributors in the state.
With stocks damaged, the retailers may not be able to immediately pay their credit, which will block working capital.
"Since Kerala is a consuming state, floods would lead to huge financial losses to the retail industry. Kerala sees sales of about Rs 6 billion in retail market a day," said E S Jose, director, Kerala State Industrial Development Corporation.
Photograph: PTI Photo