At Delhi's markets, cardamom, pepper selling at double their recent rates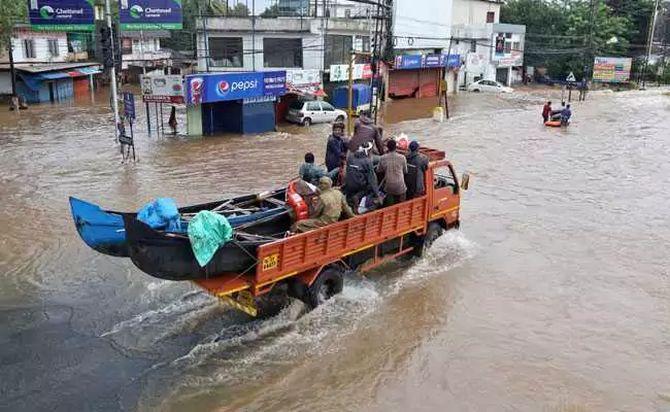 Those entering the Khari Baoli market in Old Delhi are greeted with the distinct aroma of cardamoms, pepper and other spice.
But, if one wants to buy any, they will have to now shell out more. The flood in Kerala - the source of many of these spices - has hit supply.
"Prices of all spices from Kerala have gone up by up to 100 per cent in the past few days. This has increased costs for retailers. But, the demand from end consumers has not gone down," said Neeraj Gupta, proprietor of Gupta Stores in the market.
Spices are not essential commodities in any case.
The price of small green cardamoms has increased by Rs 200 to Rs 1,800 a kilogram (kg). Black pepper has become costlier by Rs 100 to Rs 500 a kg.
Khari Baoli, one of India's largest spice markets, supplies to almost all of north, central, and east India.
The flood has not hit supplies as the spices are coming from last year's stock. But, there are likely to be shortages as these stocks get depleted.
"Small cardamoms, black pepper, ginger, jaivitri (mace), and jaiphal (nutmeg) come from Kerala between September and December. There are reports of massive damage to the standing crops, so prices have gone north," said Vijay Gupta, president of Khari Baoli Kirana Traders' Association.
Almost all cardamom is sourced from Kerala. But black pepper, mace, and nutmeg also come from Sri Lanka. Some of the import was also for re-export, so it might not help with stocks.
"In Khari Baoli, most traders depend on stocks in warehouses in and around Delhi. There isn't any immediate supply shortage," he added.
Pepper, also called "black gold", was Rs 305 a kg on August 8, when it began raining heavily in Kerala. Now, it is Rs 405 a kg.
In 2017-18, Kerala produced about 25,000 tonnes of small cardamom, almost 90 per cent of the country's total output.
The crop loss this season is expected to be 40-60 per cent, with Idukki and Wayanad districts, hit hard by rain and floods.
Heavy rain in neighbouring Karnataka, in Kodagu, Hassan, and Chikkamagaluru districts, has impacted production, though growers are yet to quantify the loss.
Apart from spices, the flood has also hit tea production.
The price of tea was up 30 per cent at last week's auctions, said N Dharmaraj, chief executive officer of Harrisons Malayalam, one of the large plantation companies in south India.
A CARE Ratings report said rubber and tea industries in Kerala could face losses of up to Rs 420-430 crore and Rs 3,500-4,000 crore, respectively, with the flood in Ernakulam, Idukki, Kottayam, Kollam and Pathanamthitta districts.
A similar fate might await coffee production. Kerala produces almost 20 per cent of the national production.
Among other crops, areca nut prices have risen by Rs 20 a kg in the past fortnight, to Rs 250 a kg, also on account of loss to the standing crop.
According to M Suresh Bhandary, managing director of the Central Areca Nut and Cocoa Marketing and Processing Co-operative, almost 40 per cent of the standing areca nut crop has been damaged in the deluge.
Photograph: Sivaram V/Reuters