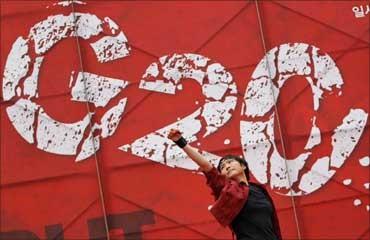 Bharatiya Janata Party's new Cabinet member Suresh Prabhu on Sunday said the G20 resolution to increase global economic growth by two percentage points over five years is challenging.

Prabhu, who is expected to play a crucial role for India and guide Prime Minister Narendra Modi at the G20 meeting in Australia, reminded the global community that growth has to be accompanied by employment creation, which has not been the case in recent years.
The G20 Summit is scheduled for November 15-16 in Brisbane.

"This summit will take place to discuss how to bring about higher growth rate in the global economy. The target is two per cent growth more than what happens normally. It looks like a very easy task.
"But now, from the recent survey by the IMF, it seems that even two per cent will be challenging because some parts of the world have not seen growth as it should have," Prabhu said in the India Global Forum.

International Monetary Fund (IMF) had last month cut global growth projections by 0.1 percentage points at 3.3 per cent for 2014, and 0.2 percentage points to 3.8 per cent the next year. The global economy grew 3.3 per cent in 2013.

Prabhu said the European Union and some parts of Asia are showing slow growth. Therefore, it is a big challenge to raise global output by two percentage points.

"How do we bring back the growth? Fortunately, a few countries which will contribute to this two per cent target are economies such as India. We will make sure that we not only fufill our own target but also try to surpass it," he said.

India's economy is projected to grow over 5.4-5.9 per cent officially in the current financial year against the sub-five per cent growth in the last two years. Prabhu said this is also a time to think about several issues related to growth.

One of the things is how employment should rise.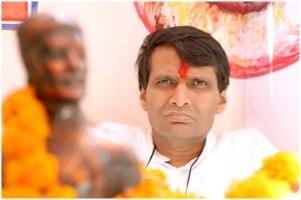 Image: Suresh Prabhu

"We are seeing that the growth has taken place even when unprecedented numbers did not get as many jobs. Many parts of the world are now agreeing that it was like a jobless growth," he said, adding that said growth has not really created winners in the last few years. "We really need to find out how that happened."

The new Cabinet member said growth cannot come unless all sectors of the economy -- agriculture, manufacturing and services -- expand.

He called for removing hurdles in the movement of services and said that India has been saying that restrictions on free movement of labour can stifle a sector that can contribute to global growth in the years ahead.

Highlighting the importance of the infrastructure sector, Prabhu said: "It should be a top priority for the world community to find out how we can invest more and more resources into infrastructure."

Obviously, India would be the biggest beneficiary because it is going to be the single largest market for infrastructure over the time.

"If India grows at that rate (seven per cent). . . and if you decide to put only 10 per cent of the total gross domestic product in infrastructure, the amount of money that would be needed would be far in excess several other countries put together," he said.

Investments in infrastructure should not only benefit deficit nations but countries that make the investment, he added. G20 is also going to discuss energy -- another big challenge for the world.
Photograph: Jo Yong hak/Reuters