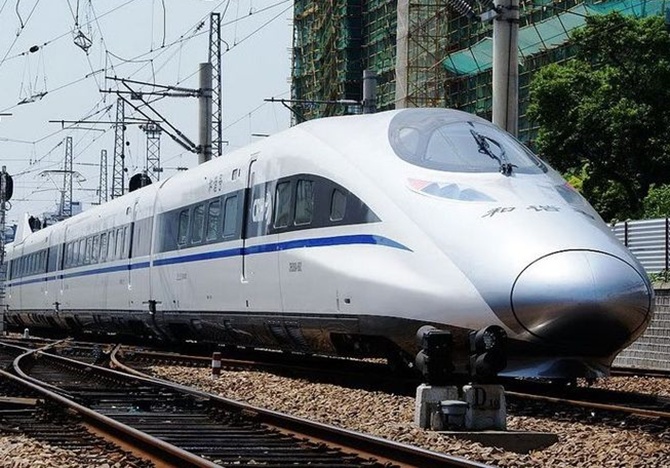 A bullet train. Photograph: Kind Courtesy, Wikimedia Commons
Superior technology and their experience in safety and signalling give Japanese firms an edge over the Chinese, who might have pitched strongly to become the technology partner for the coming Rs 63,000-crore (Rs 630-billion) high-speed rail project between Mumbai and Ahmedabad, according to officials in the railway ministry.
Despite being cheaper, the Chinese technology is not the preferred option.
Senior railway officials say besides technology, the Japan International Cooperation Agency is likely to fund the high-speed project.
Officials said there was no formal movement on Chinese financing for the Mumbai-Ahmedabad corridor though China could look at funding future corridors.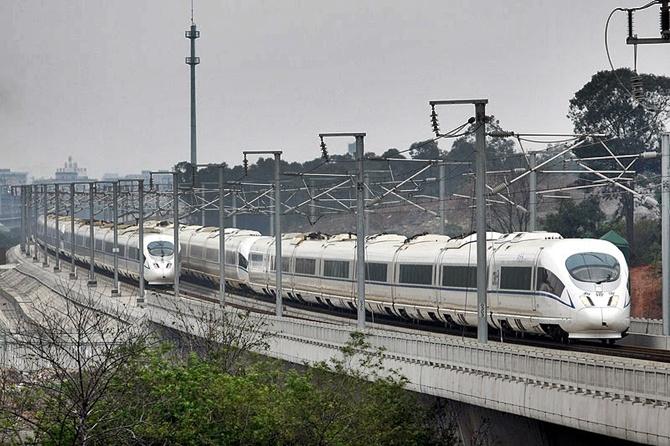 A bullet train. Photograph: Kind Courtesy, Wikimedia Commons
A feasibility study is being undertaken by JICA, likely to conclude early next year.
Besides, a business development study by French Railways is underway.
Key locomotive manufacturers like Alstom and Bombardier have also shown interest for supplying locomotives.
JICA has been financing key railway projects like the Western arm of the dedicated freight corridor, while two Chinese companies -- CSR Sifang and CNR -- are strong contenders for Rs 3,000 crore (Rs 30 billion) worth locomotive projects in Madhepura and Marhowra.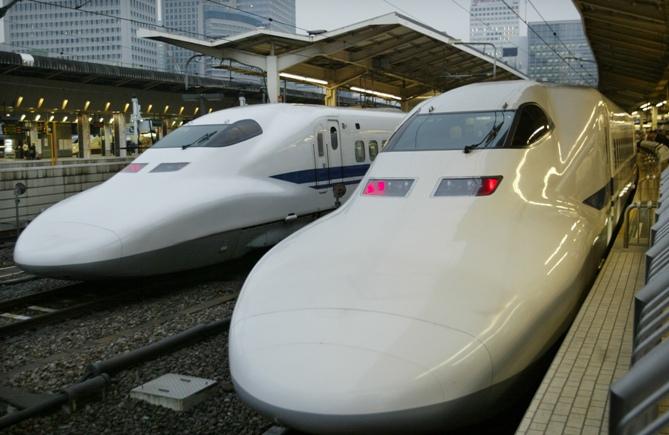 Japan's bullet trains, or the 'shinkansen' at Tokyo station. Photograph: Issei Kato/Reuters
"The Japanese have mastered the art of tunneling with about 74 per cent of its network in the hilly terrain.
"They are exemplary in signaling, control, rolling stock and in their safety record.
"As for the Chinese, there could be knowledge sharing on project implementation since they have created one of the largest high-speed network within few years," said a senior railway official, who did not want to be named.
Recently, during Prime Minister Narendra Modi's visit, Japanese Prime Minister Shinzo Abe had pitched for a Shinkansen style high-speed train system in India.
KEY AREAS OF CO-OPERATION
Pacts signed between India & China on Thursday include:
Training in heavy haul transportation: A training programme has been finalised for 100 persons
Increasing speed on existing lines: Chennai-Bengaluru-Mysore section has been identified for increasing speed to 160 kmph with cooperation from China
Redevelopment of railway stations: Chinese side will conduct pre-feasibility of two stations with their financing and prepare a report indicating further course of cooperation
Cooperation in high-speed rail: Chinese side will conduct project feasibility study and prepare a detailed report with their financing of a section to be advised by Indian Railways
Setting up of Railway university: Chinese experience of rail universities will be used to develop a railway university here