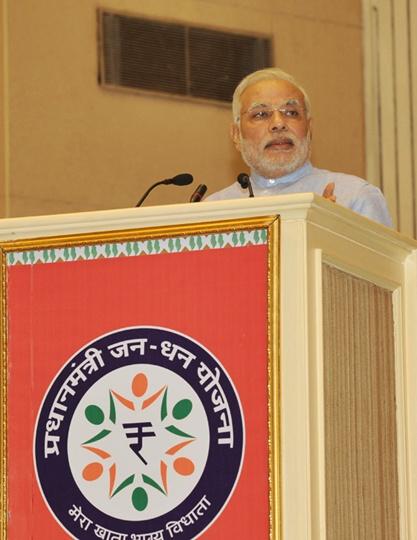 Two-and-a-half months before the deadline, banks, led by the government-owned ones, are within a striking distance of reaching the target of opening 75 million accounts under the Pradhan Mantri Jan Dhan Yojana of the Narendra Modi government.
The data show close to 72.5 million accounts have been opened till November 10 with an average 500,000 opened every day. At this pace, it is just a matter of another few days that the target will be achieved.
But there is a catch. Over 75 per cent of these accounts, or 54.8 million, have no balance in it, according to the latest government data.
The remaining 25 per cent of the accounts garnered Rs 5,600 crore (Rs 56 billion) since the scheme was launched on August 28.
Initially, banks were given a year to achieve the target but later they were asked to beef up the drive. January 26, 2015, was given to them as the deadline.
While accounts were opened at a brisk pace, issuances of debit cards lagged as only 39.8 million RuPay cards have been issued, data showed.
As per the latest data available with the finance ministry, State Bank of India — the country's largest lender — tops the list with 12.8 million accounts opened across its branches till November 10.
Bank of Baroda, which opened 3.88 million accounts, came second, closely followed by Canara Bank with 3.78 million bank accounts.
The scheme consists of a RuPay debit card with in-built accident insurance cover. Under this scheme, on opening a bank account, holders are eligible for an overdraft facility of Rs 2,000, which can be extended up to Rs 5,000, based on the consumer's credit and transaction history.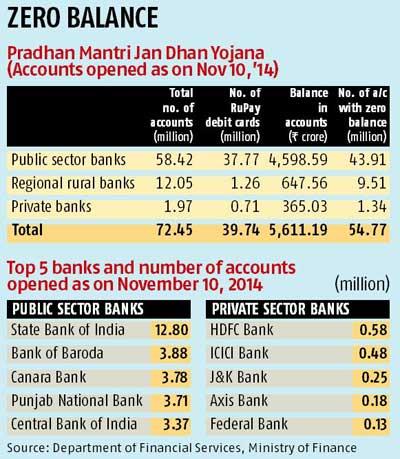 Further, those opening accounts before January 26, 2015, will also get Rs 30,000 life insurance cover.