Joint venture to take on Amazon will be announced next week, report Karan Choudhury and Nivedita Mookerji.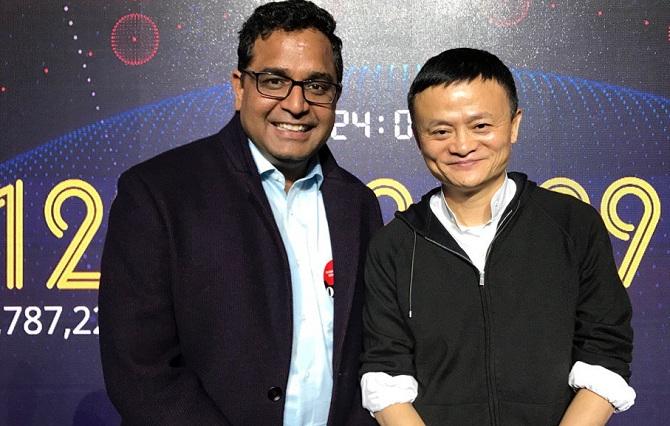 It was back in January 2016 when Jack Ma, founder of Chinese e-commerce major Alibaba, took the key partnership decision on entering the fast-growing online retail market, a source told Business Standard.
Ma, in India at that point, narrowed down on Vijay Shekhar Sharma's wallet-to-payments bank venture Paytm, where the Alibaba Group was already the largest investor, as a future partner for his e-commerce foray into India, it has been learnt.
It was a one-on-one deal, without any merchant banker's involvement.
A year later, the two sides are ready to announce a joint venture next week, while chalking out a road map to take on Jeff Bezos-led Amazon, which has committed $5 billion for the India market in three years.
Ma is not flying down to India this time when Alibaba Group Holding's $200-million investment in Paytm E-Commerce Pvt Ltd, translating into a 40 per cent stake, is announced next week.
However, a team from China, led by J Michael Evans, director and president of Alibaba, is expected to be here.
The next big round of funding, perhaps in excess of $1 billion, is likely next year.
That probably would be a more appropriate time for Ma to come and flash the big dollar note like Bezos did soon after starting the India venture.
Even as there has been much speculation on Alibaba tying up with other e-commerce companies in India, a source close to the development said the partnership with Paytm E-Commerce would be exclusive.
"This is it for the India foray,'' he said.
However, Alibaba Group has an investment in Snapdeal, a prominent e-commerce company.
At this point, the final dots are being connected for the new board of Paytm E-Commerce to take shape.
At least three sources confirmed that Sharma, founder of One97 Communications, the parent company that owns Paytm, is slated to be the chairman of the board.
There are likely to be seven members, including Evans from Alibaba.
Others would include two members from Saif Partners, an investor in Paytm, and a couple of independent directors.
While a formal meeting of the new board is likely to be scheduled around April, consumers may get to see the Alibaba touch in Paytm's e-commerce arm later this year, around Diwali, sources said.
A new app, business synergies with Alibaba global, and several cross-border businesses could be on the cards.
Is Alibaba an exit route for Paytm's Sharma? A source claimed with Sharma owning around 20 per cent stake in Paytm, it was unlikely.
Sharma's stake would for sure get diluted over a period of time, but he may not sell off in a hurry, the source added.
To begin with, Alibaba plans to be a passive investor in Paytm's marketplace.
By around 2019, Alibaba-backed Paytm wants to take on Amazon head-on. "
Alibaba may consider becoming a visible partner in the Paytm marketplace after that," said a source.
IMAGE: Vijay Shekhar Sharma, left, with Alibaba's Jack Ma, right. Photograph: Courtesy Vijay Shekhar Sharma/Twitter.