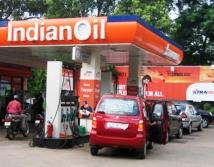 State-owned Indian Oil Corporation is losing Rs 238 crore (Rs 2.38 billion) per day on selling diesel, domestic LPG and kerosene at government controlled rates.

"We are losing Rs 156 crore (Rs 1.56 billion) per day only on diesel sales," a company official said in New Delhi on Thursday, requesting anonymity.

IOC and its sister PSUs, Hindustan Petroleum and Bharat Petroleum, sell diesel, domestic LPG and kerosene at rates way lower than their imported cost to help government keep general price inflation under check.

"Diesel is being sold at a discount of Rs 15.79 per litre to its imported cost," the official said.

Finance Minister Pranab Mukherjee had in his Budget for 2011-12 ignored calls for a reduction in customs and excise duty to contain the impact of a spurt in global crude oil prices, which are ruling at a two-year high.

Besides diesel, IOC, BPCL and HPCL are losing Rs 24.74 per litre on kerosene and Rs 297.80 per 14.2-kg LPG cylinder.

"We are losing Rs 45 crore (Rs 450 million) per day on kerosene and Rs 37 crore (Rs 370 million) a day on domestic LPG," the official said, adding the company will end the fiscal with a revenue loss of Rs 43,235 crore (Rs 432.35 billion).

IOC, BPCL and HPCL together are losing Rs 432 crore (Rs 4.32 billion)
in revenue every day on the three products.
"The industry will end the 2010-11 fiscal with a revenue loss of Rs 78,061 crore (Rs 780.61 billion)," he said.
In addition, they suffer a loss of about Rs 4.50 a litre on petrol sales, even though its prices were freed from government control in June last year.
If prices are not hiked, the government will have to come up with other ways to compensate the oil marketing companies for their losses.
The Oil Ministry wants the Finance Ministry to compensate the oil companies in cash for at least half of their under-recoveries by making adequate provisions in the Budget.
Upstream oil firms such as Oil and Natural Gas Corporation will shoulder one-third of the burden.
For the first nine months, the Finance Ministry has approved the release of a cash compensation of Rs 21,000 crore (Rs 210 billion) for the three state-run fuel retailers.