Flipkart, the poster boy of Indian online retail, is going through growth pangs, making investors edgy with its financials. Analysts and venture capitalists said Flipkart was making considerable losses on transactions of books that accounted for 65 per cent of its sales volume and 40 per cent of revenue.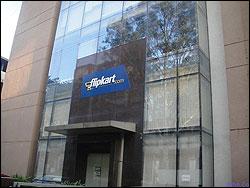 If pushed to a corner, Flipkart might even consider reducing the chunky discounts it offered on books, they said.
The online retailer, which stocks 11.5 million book titles on average, refused to reply to a detailed questionnaire sent on Tuesday on whether its losses had increased recently and why. The company also did not offer any comments on the possibility of reducing discounts.
But the slide in business is a departure from just five months ago when Sachin Bansal, CEO and co-founder of Flipkart, had told Business Standard the company was in the red at an operational level but was making profits per transaction. Bansal had said the operational loss was due to the investments it was making in technology, supply chain, logistics, customer support and marketing to scale up the business.
One of the lead investors of Flipkart, Accel Partners, did not reply to a questionnaire. Also, calls made to Charles Coleman, New York-based founder and managing partner of Tiger Global, another Flipkart investor, were not returned.   
Mahesh Murthy, co-founder Seedfund, said an early stage investment firm, investors in Flipkart may be in a tight spot as the market is not ready for valuations the company would like to see.
"Typically, what investors should do in a high-cost loss-making firm is pass the baton as fast as possible to the bigger boys," Murthy said. He added some of the funds that came early in Flipkart's life would probably start wanting some money back by 2014 or so. "All of this, along with losses at Flipkart, negative net margins, continuing spends on advertising, would increase the pressure from investors on the company."
Booking losses
* Analysts and venture capitalists say Flipkart making considerable losses on book transactions
* Books account for 65% of the company's sales volume and 40% of revenue
* The online retailer stocks 11.5 million book titles on average
* Analysts say it might have to consider reducing the sizeable discounts it offers on books
At a time when discount margins from publishers and distributors are shrinking due to the global economic slowdown, in addition to the increasing warehousing cost, Flipkart is finding it difficult to pass on deep rebates to its consumers, according to analysts.
When Flipkart started in 2007, it could pass on the bulk of the publisher/distributor discount to the consumers since the company did not have much overhead expenditure. But once it grew bigger, it had to factor in significant warehousing and rental expenditure, too. In fact, analysts point out online retail chains are more gung ho about acquiring a good database of buyers as the valuation of a company is often based on its consumer base, rather than financial numbers.
Gaurav Saraf, director, Epiphany Ventures, said even if Flipkart was making losses, it may not be in any serious trouble. "From an investor point of view I would be more concerned if they are not able to create loyalty among users," Saraf said. Stating that Flipkart, like all other e-commerce companies, is in customer acquisition mode, he said, "I think they can still get investors but their valuation expectation is very high."
Flipkart has been bullish on its revenue figures and also the magical target of $1 billion (about Rs 5,500 crore) in sales by 2015. From Rs 11.6 crore in 2009-10, its revenue jumped to about Rs 50 crore in 2010-11. The company closed 2011-12 with a revenue of over Rs 500 crore. It has a registered user base of over two million customers and ships out 30,000 items a day, clocking daily sales of an estimated Rs 2.5 crore (Rs 25 million).
On listing plans, Flipkart has maintained there's nothing on the horizon yet, but investors are stressing on the need for an IPO. Amit Chander, partner, Baring Private Equity Partners India, said, "One of the biggest concerns in front of Flipkart or its investors should be access to capital. The only route that seems to be open is an IPO in the US, as done by its Chinese peers."
Flipkart is believed to have raised $150 million (Rs 825 crore at current forex value) from its existing investors Accel Partners and Tiger Global Management in the fourth round of funding recently. With that infusion, Flipkart was valued around $850 million (Rs 4,675 crore), industry estimates suggested. The company had earlier raised $31 million (Rs 170.5 crore) overall in the earlier three rounds over a couple of years. The $850-million valuation is much less than the $1 billion talked about when private equity investors like General Atlantic were holding talks with the company.
The relationship between online retail players and venture capital funds has been rather curious of late.
In this case, when Flipkart acquired Letsbuy.com, an online retailer specialising in electronics, both the sites had common investors -- Accel Partners and Tiger Global Management. The struggling Letsbuy.com has now shut shop and its traffic has been diverted to Flipkart.
As a strategy, the company has diversified beyond books, and claims it wants to be the biggest retailer of India (not just online). Other than groceries and automobiles, it's looking to enter all categories -- it is already present in 12, including books, music, mobiles, computers, cameras, home & kitchen appliances, TV & home theatre systems. It has also entered the digital content market with the recent launch of Flyte (digital music store).
Without commenting on Flipkart, Arvind Singhal, founder and chairman, Technopak Advisors, said e-tail (or online retail) in India was just starting. "Many players will fizzle out in the coming months, but e-tail will prevail."
Flipkart has always denied any exit plans. "Selling our business does not feature in our future plans," Bansal had earlier said. On the buzz that the $48-billion Amazon, which earlier this year launched an online shopping site Junglee.com in India, may eventually buy out Flipkart, Bansal had said, "Talk of any future acquisition will be speculation and we would not like to comment."
What has changed in the past six months is that e-commerce firms have now gone through two-three rounds of funding, points out Chander of Baring. "By this time, start-ups in the Silicon Valley are either ready for an IPO or are sold to larger strategic buyers." He said this was not happening in India, as several players in this segment were still too small in revenues for an IPO (a majority are still making losses) and there were hardly any strategic players around to buy these firms.
India's online retail market is around 0.1 per cent of the total retail business estimated at about $500 billion (Rs 27.5 lakh crore). That makes e-retail a Rs 2,750-crore (Rs 27.5 billion) business in India. It is projected to rise to Rs 7,000 crore (Rs 70 billion) by 2015.