Snapdeal has a number of shareholders including Ontario Teachers' Pension Plan, PremjiInvest, Ratan Tata, Foxconn, Temasek and BlackRock, among others.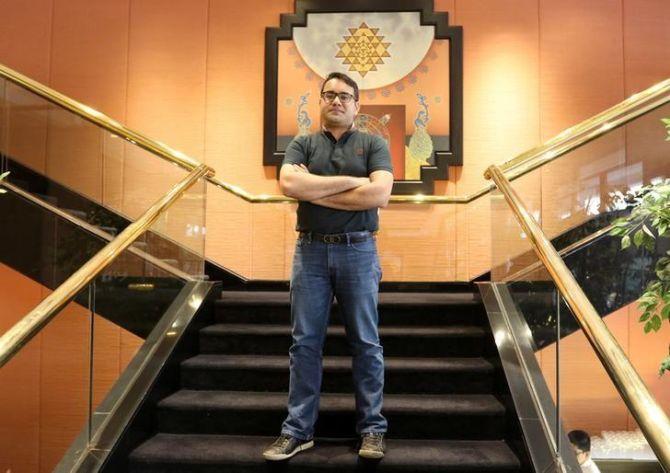 Image: Kunal Bahl, CEO of Snapdeal. Photograph: Shailesh Andrade/Reuters
Some of the early-stage investors in Snapdeal, such as Nexus Venture Capital, have come out in support of the co-founders' move to end merger talks with Flipkart.
A host of minority shareholders, along with early-stage investor Kalaari Capital, are, however, displeased with the decision taken by Kunal Bahl and Rohit Bansal.
"Nexus, as a long-term Snapdeal shareholder, fully supports the Snapdeal 2.0 journey. We will continue to partner with the company to help achieve its goals," the venture capital fund said on Wednesday.
During the five-month-long discussions for the sale of the e-commerce platform to Flipkart, led by the SoftBank group, Nexus had been one of the strongest allies of the co-founders, sources said.
Sources said that Nexus and the co-founders, who have three votes in total in the Snapdeal board, vetoed against the deal every time.
While it is not clear if Nexus would invest more in Bahl's new business plan, it would definitely have an advisory role in Snapdeal 2.0.
Nexus holds 12.20 per cent stake in Snapdeal and had invested around $12 million in the initial rounds.
Not only this, Jasper Infotech, which owns Snapdeal, had in May received Rs 113 crore in funding from Bahl, Bansal and Nexus.
The fund was to be infused in Unicommerce, a platform for e-commerce sellers to track orders across marketplaces.
Snapdeal's earliest investor Kenneth Glass, a former Microsoft executive, has also come out in support of Bahl.
"Ten years ago, I believed in Kunal and Rohit's vision to create a successful company in India and was excited to be their very first investor.
Today, I'm equally excited about the announcement introducing Snapdeal 2.0 and believe the future for Snapdeal is very bright and I'm thrilled to continue to be on this journey with them," he wrote in a mail to Bahl.
When contacted, Bahl, in an emailed response, said it was great to see the continued support from shareholders like Glass.
"Our team really appreciates the continued commitment of our shareholders to Snapdeal," he said.
There have been reports that Snapdeal's decision to walk out of the deal and pursue an independent path has not gone down well with a section of shareholders.
According to reports, Vani Kola, co-founder of Kalaari Capital, had criticised the move.
"I am extremely disappointed and shocked with the founders and their disregard for investors and employees' interest," Kola was quoted as saying.
Minority shareholders, who were promised 10x or 20x returns on their investments, are also trying to find a way to get the deal back on the table.
"Many are rallying up and want to approach the board and tell them to overturn the deal.
If that does not work, they are planning to take a legal recourse," said a representative of one of the minority shareholders.
Snapdeal has a number of shareholders including Ontario Teachers' Pension Plan, PremjiInvest, Ratan Tata, Foxconn, Temasek and BlackRock, among others.
However, according to sources at Snapdeal, minority shareholders do not have any say, as the decision was taken by the board.
"The shareholders do not have a vote or say in this," a person said.