'BPCL has always been spoken about as a multinational company though it is State-run... this sets our work culture also apart.'
Amritha Pillay reports.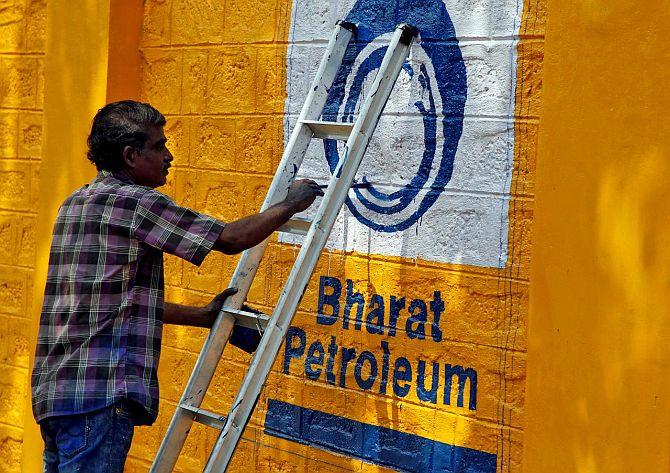 In 2016, when the NDA government repealed the Bharat Petroleum Corporation 1976 Nationalization Act, life for the once private company came full circle.
Even after its nationalisation, the company continued to remain "foreign" and "privatised" in its work culture, say former and present employees and some industry executives.
"BPCL has always been spoken about as a multinational company though it is State-run... this sets our work culture also apart from the others," says a senior BPCL official, who did not wish to be named.
From Burmah Oil Company to Burmah-Shell, the company that started from Scotland travelled through the South Asia markets and found its bearings in India's manufacturing sector when it built a modern refinery at Mumbai's Trombay in the 1950s.
Burmah Shell was nationalised in 1976, paving way for the present day BPCL.
It is believed the major reason for nationalisation of BPCL was the reluctance by the company to supply fuel to the Indian armed forces during the 1971 SWar between India and Pakistan.
On November 20, 2019, the Centre decided to go for sale of its entire 53.29% stake and transfer of management control to a strategic buyer.
People in the know add the sale is likely to attract attention from a host of foreign bidders, mostly oil producers aiming to secure a market for their produce.
In the event of a foreign or private investor, they may not find it difficult to fit into the company's pre-nationalisation work culture, which some believe has been preserved well.
"The Burmah Shell culture continued even after the nationalisation. A lot of the Burmah Shell employees stayed with BPCL and the new recruits were trained in the same culture. The company was different in terms of decision making; faster and response to crisis management was more professional," says Sarthak Behuria, former chairman and managing director, BPCL, who also worked as Indian Oil Corporation chairman.
Behuria says the culture was advantageous when deregulation of petroleum pricing first happened after the dismantling of administered price regime.
BPCL started its marketing initiatives, like Pure for Sure campaign.
"The company was considered to be more progressive," Behuria adds.
P Elango, managing director, Hindustan Oil Exploration Company, refers to the absence of name-plates at BPCL offices as symbolic of this culture.
"There would be no nameplates for directors and associates have a culture of calling each other by names," he says. The BPCL official quoted earlier adds the salutation 'sir' is used sparingly, only for senior-most persons.
According to BPCL's 2018-2019 annual report, the company has a workforce of around 12,000 employees across the country. A retired senior BPCL official refers to this culture as "people above oil".
"Thanks to Burmah Shell, the organisation had a people above oil culture, which continued even after it became State run," he says.
The workforce employed during Burmah Shell's times was part of BPCL's recent strength till as late as 2015.
"Some Burmah Shell employees retired as recently as four to five years back," says the BPCL official quoted earlier.
Elango recollects an international safety certification that Cairn won few years back. "We thought we were the first in India to achieve level -8 of the International Safety Rating System, only to realise BPCL already has it," he adds.
Elango is a former CEO, Cairn India.
"Because of their origin as Shell, their safety culture has always been strong," he adds.
While the work culture continued, the 1976 nationalisation also brought in some changes, including in its retail operations.
"During Shell's time, the company reached out to the most aristocratic family in the town and made them a dealer. This meant, the family's reputation was also at stake along with the brand," says the former BPCL official quoted earlier.
"This, however, later changed with the government regulations and other vigilance," he adds.
Though operational and financial structure challenges may still bother a new buyer, what is assured of at least is a faster implementation of any intended business plan.