The minister said that the investors across sectors are very enthused about India and were waiting to come in.
Terming political opposition to ordinance route for reforms as 'obstructionism', Finance Minister Arun Jaitley said the foreign investors have no problems with these decisions and they were rather happy that the government has brought in legislations.
"I don't think that ordinance route is an issue for them at all.
"They are all extremely happy that the government of India has brought in a legislation. The approval of the ordinance is a matter of cause.
"Actions taken under the ordinance are deemed to be valid and at the end of the day, everyone knows that both in the lower house and also in the joint house we have the numbers and, therefore, the obstructionists can only delay.
"The obstructionists cannot derail it," Jaitley said amid a series of meetings he is having in Davos on the sidelines of WEF with existing and potential investors.
The minister said that the investors across sectors are very enthused about India and were waiting to come in.
To a question on by when he expects investments to pick up, Jaitley said: "We are quite close to that point because there are a large number of investors who are waiting to come in and they only want to be doubly sure about the credibility of the decision making process and the stability of the policies."
"Banks, insurance companies, manufacturing companies and technology companies all are looking at India.
"Of Course some of them do have issues, but uniformly all of them are enthusiastic about the changes that are taking place in India.
"The government has made its intention very clear about the roadmap that it wishes to pursue.
"Some have individual issues and I think meeting them here adds to the comfort of investing in India," he added.
On whether a joint session of Parliament could be called to clear reforms, Jaitley said: "I am not saying it is a possibility as I hope that the situation does not arise.
"Also, don't forget since this government came to power there has been seven state elections and we have won most of them. Along with our ally, we won Andhra Pradesh election, J&K is a divided house and we did extremely well.
"BJD won Odissa elections that is a party that is pro reforms.
"TRS won Telangana elections and that party is also certainly not obstructing any reforms.
"All seven, Delhi is 8th which is going to polls, states have shown that the obstructionists have lost everywhere. This is a signal the global investors are closely watching," he added.
Ongoing reforms much more than 'big-bang'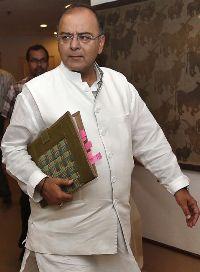 As expectations continue to build up on the first full Budget of the Modi government, Jaitley said the sum-total of the reform measures and other policy initiatives already taken would be much more than 'the big bang'.
"I am not going to be swayed by these phrases that are used in television studios. If you take the sum total of all the steps we have already taken, it will be much more than the big bang.
"Even big bang looks small in comparison," Jaitley said in Davos.
He was replying to a question on whether the global investors present at Davos were also expecting a 'big bang' budget from him next month.
Asked whether he was tempering down the expectations, the minister said, "I am not tempering down the expectations.
"Opening up sacrosanct sectors like Railways, Defence, is that not big bang? GST, which everyone thought will never see the light of the day, is that not big bang?
"In the mining sector, in allocation of natural resources, what we have done, is it not big bang?
"After all these are the steps that we take in management of the economy of the country. These are steps which our predecessors had failed to take.
"The Budget will be a very important occasion for this government, but then the next 364 days are equally important."
"I'll again say that I'm not tempering down the expectations. If you look at what happened in the last budget that we presented, we announced a particular direction in the
Budget and that was followed up with a lot of activity and action over the next six months," he said.
Asked about the government spending programmes, Jaitley said, "You should wait for the budget for exact numbers, but I think the government spending is important and fiscal prudence is equally important and therefore it is an onerous responsibility to maintain the balance."
On the road ahead of raising tax revenues from oil when prices were falling, Jaitley said, "As far as petrol and oil prices are concerned, the prices are coming down. I can't say what will happen in future, but then there is of course a lot of benefit that we have passed on to the people.
Image (TOP): The Bull statue at the Bombay Stock Exchange; Photograph: Reuters ' (BOTTOM) Finance Minister Arun Jaitley; Photograph: Kind courtesy, PIB