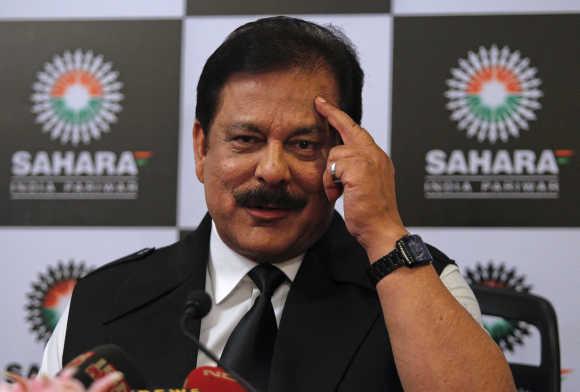 Looking to garner funds to secure bail for its Chairman Subrata Roy, Sahara Group is in advanced stages of tying up a financial package worth nearly $2 billion (over Rs 12,000 crore) from US-based Mirach Capital Group.
Sahara Group's Head of Corporate Finance Sandeep Wadhwa told PTI that documentation process is progressing and the deal with Mirach Capital is expected to be completed before February 20.
The deal under progress comprises investments to the tune of $1.1 billion and a senior loan of close to $882 million having a one-year tenure.
The latter amount would be for replacing money borrowed from Bank of China related to Sahara Group's three overseas hospitality properties.
Mirach Capital would replace loans worth around $882 million taken from Bank of China on the three overseas properties -- Plaza hotel and Dream hotel in New York and Grosvenor House hotel in London.
"It will also make investments of $650 million in Grosvenor Hotel and the amount would finally come to Amby Valley Ltd," he said.
Further, Mirach Capital would pump $450 million into the hospitality vertical of Sahara Group, he added.
The money would be invested in Sahara Group entities by Mirach Capital through a Special Purpose Vehicle.
When asked whether funds worth $1.1 billion from Mirach Capital would be enough to add up funds for securing the bail of Roy, Wadhwa replied in the affirmative.
Earlier this month, the Supreme Court had allowed Sahara Group to go ahead with its proposed transactions for foreign loan as part of raising Rs 10,000 crore (Rs 100 billion) to ensure release of Roy from jail.
Roy has been in jail for over nine months for non-refund of over Rs 20,000 crore (Rs 200 billion) with interest to depositors.
"This ($1.1 billion) amount will be enough to take care of the short fall," he said and added that the group has already paid Rs 3,600 crore (Rs 36 billion) in cash towards bail.
From investment of $1.1 billion, about Rs 1,400 crore (Rs 14 billion) would be utilised as cash and Rs 5,000 crore as bank guarantee towards the bail amount, Wadhwa said.
With regard to the proposed deal, Sahara Group has already sought clarification from the Reserve Bank of India with regard to the processes that are to be followed.
If necessary, the Group would also seek nod of the Foreign Investment Promotion Board (FIPB), Wadhwa said.

Explaining the rationale behind replacing the loan from Bank of China with that from Mirach Capital, Wadhwa said the idea is to retain Sahara Group's ownership of the three marquee properties.
"If we are able to raise the money through these properties, then why should be we sell it," he said. Wadhwa said the loan of around $882 million from Mirach Capital would be re-financed before the one-year period ends.
Under the proposed deal, Mirach Capital would invest $650 million in Sahara Grosvenor House Hospitality Ltd, which owns Grosvenor House.
Sahara Grosvenor House Hospitality Ltd is a subsidiary of AmbyValley (Mauritius) Ltd and the latter is a subsidiary of Amby Valley Ltd.
Besides the entity would be investing about $450 million. According to Wadhwa, once Subrata Roy is out of jail, the group's negotiating power would increase and also there would be more interest from various quarters in the properties.
On why funds are being arranged from Mirach Capital, Wadhwa said that since since the entity is a US-based multi-family trust, the process would be completed in quick time.