Prime minister, US president to address closed-door meeting between chief executives from India, US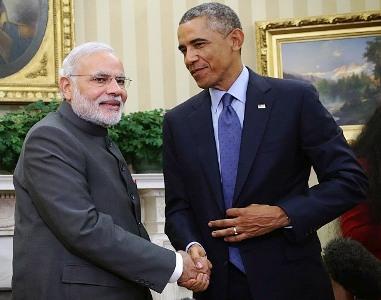 The US is going to make a heavy-duty pitch for starting negotiations on a much-delayed bilateral investment treaty with India even as executives from both sides meet on January 26.
The US has been urging India to begin negotiations for a BIT or Bilateral Investment Promotion and Protection Agreement since 2010, when President Obama last visited India.
"The government agrees that an early conclusion of the BIT negotiations will significantly improve the investment sentiments.
"But the US is well aware of our problems.
"We are revising the model BIT agreement to do away with investment-state disputes [related to telecom multinationals whose licences were cancelled]. Once that is finalised, we will be in a position to resume negotiations," a senior official told Business Standard.
However, according to diplomatic sources, it seems American companies were 'not willing to wait any further' and were putting pressure on their government to have it sealed with the new Indian administration.
Subsequently, the US has been stepping up pressure on the Bharatiya Janata Party-led government to conclude the talks and sign an agreement.
"The matter has been taken up in every meeting that the new government had with American authorities," said another official.
This will also be the most important agenda for the India-US CEO Forum that will meet on January 26; both Modi and Obama will be present.
This will be followed by a joint address by the two leaders to Confederation of Indian Industry, Federation of Indian Chambers of Commerce and Industry and the Associated Chambers of Commerce of India.
This meeting between Obama and Modi will be in addition to the one on January 24.
BIT is expected to ensure protection for investments as well as intellectual property rights.
Although India has BIPPAs with 83 countries, it has not signed one with the US yet, leaving companies from the world's biggest economy unsure about their investments here.
US Secretary of State John Kerry is believed to have expressed his concerns over delay in BIT talks and said to have raised the issue with Modi during their meeting on the sidelines of the 'Vibrant Gujarat' summit earlier this month.
During his speech at the summit, MasterCard's Ajay Banga had made a strong pitch to restart BIT negotiations.
"High time BIT talks gain momentum.
"This is certainly the most important issue for American companies.
"If the government wants investments to come in from there, then protection is a crucial factor," said Ajay Singha, executive director, American Chamber of Commerce in India.
The US has already had 15 round of talks with China for a BIT.
With India, the last round of talks took place in February 2011.
Of the 83 BIPPAs, India has enforced 72.
Following disputes with telecom multinationals over cancellation of their licences the United Progressive Alliance government had decided to review the treaties.
"When making investment decisions, companies need an environment that is predictable, transparent and consistent.
"A bilateral investment treaty between India and the US would create this environment and significantly increase investment flows," said Diane Farrell, acting President, US-India Business Council.
During 2000-2014 India received foreign direct investments of $13.28 billion, according to data from the ministry of commerce and industry.
Trade in goods and services between India and the US is around $100 billion. Both governments aim to achieve $500 billion worth of trade.
Image: US President Barack Obama and Prime Minister Narendra Modi in the Oval Office. Photograph: Paresh Gandhi/Rediff.com