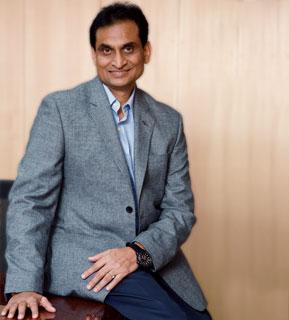 What started as a small personal care products company is now one of the most successful FMCG brands in south India.
Yes, we are talking about CavinKare, a household brand that most Indians cherish.
Started by C K Ranganathan (left) in 1983 with a humble investment, is now a Rs 1,250 crore (Rs 12.50 billion) company with around 5,000 employees and has a hefty market share both in cosmetics and dairy segments.
Both cosmetic and dairy products are a big hit not only in the domestic market but also in Singapore, Malaysia and Indonesia.
The Chennai-headquartered company derives 7 per cent of its revenues from international markets.
In the dairy section, CavinKare competes with major FMCG players and has a neck-to-neck competition with industry biggies like Amul and Nestle.
It has revenues of Rs 250 crore (Rs 2.50 billion) and is constantly innovating to enhance its topline.
Like most companies, CavinKare has also faced ups and downs in its growth phase but that never held back the firm to notch up a place in the top league. C K Ranganathan, CMD CavinKare takes Shobha Warrier through the firm's journey so far and also shares his viewpoint on how the retail sector fares in India
Your products cater to the retail customers. Ever since Modi government came to power, the debate has been on opening up the industry to global players. Is it a good idea?
Opening up the sector for global players will boost competitiveness.
I believe Indian players will put their best foot forward if they have to confront the top retailers from across the globe.
Overall, the retail industry will benefit from the expertise that global firms will bring with them.
Take for instance CavinKare, where we never shun ourselves from competition from multi-national companies and this is the reason why we expanded our presence in global markets.
Despite being a smaller player on international circuit, not even once we thought we didn't have the ability to face bigger rivals.
From my experience, I can confidently say that fear is all in the mind. If you believe you can, then, you surely can!
Small kirana stores fear that they will be eaten away by the big players...
Yes, small shops fear that they will vanish if international players enter the retail market.
Why only global players, even big local players can eat them up.
For example, if Reliance puts up a super store in any region, it will eat away market share of smaller players if they don't innovate.
Companies will survive depending on customer preferences. If the consumer prefers self service stores, then shops with this kind of format will survive.
Whoever wants to survive the competition, whether small or big, will have to think what the end-consumer wants and make changes in his business model accordingly. Customer is the king, whether you like it or not.
When liberalisation first happened in 1991, Indian industry made a hue and cry about it. But later most sectors survived and became stronger...
Exactly! All of them cried foul about the liberal trade policies at that time. But most of them are today as big or better than the international players.
The best example I can give is that of Airtel. It is not an MNC but a very strong player whom market leader Vodafone considers to be a threat.

You are also into manufacturing. The prime minister is talking about 'Make in India' while the manufacturing sector in India is far behind China. What kind of reforms do you see in the manufacturing sector?
Make in India campaign is very good but I prefer Made in India more. The former will serve only a short term purpose.
We should not believe that we can only be workers.
When you say, Make in India, it means, Indians will work for you. I am not saying you shouldn't say, Make in India but the bigger slogan should be, Made in India.
In my opinion, we should create our own brands and create a market for them internationally. Only then, money will come back to India.
Look at the amount of money, around $60 billion, the US gets through Apple phone. Every single penny Coke or Pepsi makes goes back to the US.
All the top products in the consumer sector are either American or European. Indian companies do not want to take any risk; they want to play safe.
You mean we need entrepreneurs with new ideas?
Yes, we need young entrepreneurs with fresh ideas, but our ecosystem must change and the government must support new ventures only then we will grow.
Even in the most talked about software sector, you are only in the service space. What we need are new products.
By concentrating on services, the government is doing injustice to future generation.
The mindset of the leadership should change first.
What should the government do to encourage entrepreneurship?
Just one statement from the Prime Minister on Clean India, changed the attitude of people! Leadership at different levels makes a huge difference to the attitude of people.
Leaders should inspire people.
Those who do excellent work should be hailed and appreciated so that it motivates more youngsters to become entrepreneurs.
Environment should be one of appreciating entrepreneurs and not that of punishing their failures.
For every 10 people who work for others, one person should be the job creator.
Only entrepreneurs can create wealth in the country and for the country.
Tell me, who will be interested in investing in India more than Indians? We should not let our wealth be taken outside.
Also, the government should encourage Indian companies to go global.
How optimistic are you about Indian economy performing well in the near future?
I am very optimistic about our economic growth in near term. Modi government is promising on many fronts.
Attitude and mindset make a huge difference and that is what the Modi government has done; it has created a positive attitude in the minds of the people and the business community alike.
Do you agree that the Modi government is only for the corporate sector?
I can only say that he has understood the situation rightly. I am very happy with what the Modi government is doing.
The government cannot create jobs and it is not their mandate to run businesses.
Only the corporate sector can create jobs. You should realise that the private sector is the biggest job creator.
The economy of those countries that give importance to business, grow faster. America is one big example.
What should the government do to close the gap between the rich and the poor?
India is not a communist country. Entrepreneurs will work hard to create wealth.
If you don't want businessmen to make more money, you should run a communist country. Yes, the government must encourage the rich to take care of the have-nots
CEOs of global companies in the US including Microsoft, Apple, Facebook; make money but the culture of the country is such that they donate most of their wealth.
This is how a country and its business should function. The society should not criticise a businessman for making money. On the other hand, the government must bring societal pressure on them to uplift the downtrodden by way of charity.
That is exactly what Milinda Gates said the other day...
Yes, every successful businessman in India should help the poor.
You derive more pleasure not when you make money but when you give it back to the society.
So there is nothing wrong in making money but you should learn to take care of those who are struggling to make both ends meet. And the society must applaud those who do it.
Indians have a cynical attitude to everything. Do you think it will change?
Such attitude must change if we want to grow.
I feel leaders can change the attitude of the people and make them more positive.
For the first time in my life, I see a leader trying to change and shape the attitude of the people.
Political leaders have to set examples, and Modi is doing it right. When he tells people to work hard, he is working harder than them which is truly inspiring. How did Singapore grow? Just because of one leader.
Now, I see such a change in India.