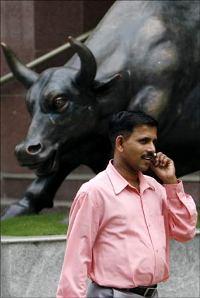 Bank of America Merrill Lynch has said volatility in Indian markets is likely to rise sharply as general elections near.

According to a report by BofA-ML, capital markets are 'usually jittery prior to the declaration of election results as it is uncertain about the outcome'.

"We would expect VIX to rise as we near May (general election 2014) this year too," it added.

The National Stock Exchange will be launching the futures contract on India VIX from February 26.

India VIX indicates investor's perception of the market's volatility over the next 30 calendar days. Higher the India VIX values, higher is the expected volatility.

Citing example of the last general elections (2009), BofA-ML said "the India VIX had jumped sharply prior to the declaration of results showing the underlying fear of investors on the uncertainty of the results".

India VIX had increased from 36 per cent on April 1, 2009 to 55 per cent a few days
before election results.
However, the index fell sharply to 43 per cent after the results were announced, the report said.
Noting that India VIX is one of the best tools to predict near-term market volatility, BofA-ML said that 'in general India VIX starts to increase at the time of stress in the markets and falls as investors become calm'.
Another key take away with respect to India VIX has been that the correlation between Nifty and the index over the last 5 years has been negative which was indicative of 'stress in the markets', the report said.
"The correlation between Nifty and VIX over last 5 years is negative 0.84, a significantly high number, making it a strong indicator for prediction of stress in markets," it said.
Significantly, the report observed that 'once the VIX has peaked, markets usually give a positive return over 1 week and 1 month'.
"Of the 4 instances when India VIX has crossed 30 per cent mark, Nifty has always given a positive return with average return of 6.5 per cent in a month," it said.