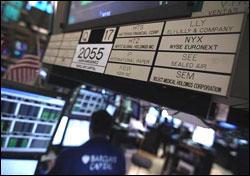 IntercontinentalExchange Inc said on Thursday it would acquire NYSE Euronext in an $8.2 billion stock-and-cash deal.
The deal amounts to $33.12 per share and once closed, NYSE shareholders would own approximately 36 per cent of ICE shares.
NYSE Euronext is a Euro-American multinational financial services corporation that operates multiple securities exchanges, most notably New York Stock Exchange, Euronext and NYSE Arca (formerly known as ArcaEx).
NYSE merged with Archipelago Holdings on March 7, 2006, forming NYSE Group, Inc.
On April 4, 2007, NYSE Group, Inc. merged with Euronext N.V. to form the first global equities exchange, with its headquarters in Lower Manhattan, New York City, New York, United States.