Global hospitality major InterContinental Hotels Group (IHG) on Wednesday said it plans to open 47 new hotels in India by the end of 2017 thereby taking its room strength to over 12,000 in the country.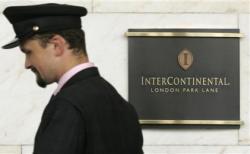 "We currently have 47 hotels in our pipeline. The hotels will be ready by 2017. These will be additional 9,882 rooms," InterContinental Hotels Group (IHG) Asia, Middle East & Africa Chief Executive Officer Jan Smits told PTI.

IHG currently operates 13 hotels in nine cities across India, including Benguluru, Mumbai, Pune, Kochi, Jaipur, Ahmedabad and Delhi with a total of 2,334 rooms.

The company will be opening five new hotels in 2013 and 8 new hotels in 2014, he added.

"The pipeline of 47 hotels includes the 13 hotels that we signed in 2012. These will be in cities like Chennai, Mumbai, Hyderabad, Ahmedabad, Gurgaon and Delhi, among others," Smits said.

Out of 47 hotels, 25 will be under Holiday Inn brand, 15 will be under Holiday Inn Express, six will be CrownePlaza and one will be InterContinental.

"The big opportunity in India is in the mid-scale. India has a very strong middle class, there is very high demand of domestic traveller segment. The opportunity lies in over 10 to 15 cities for Holiday Inn and Holiday Inn Express brands," Smits said.

On being asked if the hospitality chain was planning to introduce more brands in India, Smits said:
"No, at the moment we don't intend to increase the brands. There is incredible opportunity to grow without increasing the brands."
"We are very focused on India. We see great opportunities in India. We have been in India since 1962. We have invested heavily in our infrastructure here. We are here are for the long run," Smits said.
China and India are the biggest growth markets in Asia Pacific, he added.
Globally, IHG added 226 new hotels and launched two new brands during the last year.
"Most of the new hotels in India will be managed hotels. IHG will be employing between five to ten thousand people in next five years," Smits said.
IHG currently has over 675,000 rooms in more than 4,600 hotels in nearly 100 countries and territories around the world.
It operates hotels in three different ways - as a franchiser, a manager and on an owned-and-leased basis with largest part of business being under the franchising model.
It operates nine hotel brands including InterContinental, CrownePlaza, Hotel Indigo, Holiday Inn, Holiday Inn Express, Staybridge Suites and Candlewood Suites.