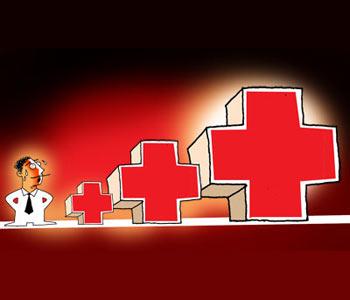 PNB Metlife, IDBI Federal Life, Cigna TTK are using sports to build their brands, in keeping with global trends and changing lifestyles of their domestic audience

Come January 2016, Standard Chartered Mumbai Marathon will have CignaTTK Health Insurance as its health insurance partner for the second year in a row.
The standalone health insurer, which launched commercial operations in July 2014, was SCMM's health insurance partner in its first year of business itself and it is an association that the brand wants to keep.

Cigna is not the only one.
Be it PNB Metlife or IDBI Federal Life, all are hitching their brands to sports.
While Cigna is one of the sponsors of SCMM (the event is the largest marathon in Asia and the richest race in Asia; it raised close to Rs 25 crore (Rs 250 million) for the 2015 run), IDBI Federal has set up a bowling foundation with Mumbai Cricket Association and PNB Metlife has put its muscle behind a national junior badminton championship.
More and more insurance companies are using marathons, cricket, football and badminton to gain wider acceptance and a more global image, besides keeping up with the changing lifestyles of their target consumers.

Festivals, soaps and health
In India, in the past, insurance companies largely partnered cultural events like Durga Puja Utsav, Ganeshotsav and other local events in cities.
The idea was to establish an association with a celebratory lifestyle and be seen as an integral part of the social and cultural fabric.
A similar objective was met when, with the advent of television, they partnered numerous soaps and award ceremonies.

Today fitness is the brand mantra, indicating a desire to bring about a shift in brand perceptions; from being part of a festive lifestyle to promoting a fit and healthy one.
Tarun Chugh, MD and CEO, PNB Metlife said that they believe in fiscal fitness and physical fitness.
"The entire thought is about living benefits.
"If you live longer and are fit, it is better for you and for us.
"So that is why we are associating with sports," he said.

Sports is seen as an indicator of a healthy lifestyle and Sapna Desai, head, marketing, Cigna TTK Health Insurance believes that one can enjoy life only when one is completely healthy -- physically, financially and emotionally.
"This is the underlying philosophy of everything we do. And it is reflected in our tagline: Health hai toh life hai," she said.
"Cigna has been a part of three marathons in three cities this year: the SCMM, Airtel Delhi Half Marathon and TCS 10 K, in Bengaluru.

A similar logic led to the launch of the MCA-IDBI Federal Life Insurance Bowling Foundation.
The foundation aims to develop a maximum of 30 fast bowlers and 30 spinners for India in the '19 and above' age group.
The bowlers will be handpicked by the MCA and trained by a panel of coaches led by Balvinder Singh Sandhu, former Indian pacer who was a part of the 1983 World Cup winning team.
PNB MetLife is sponsoring the Junior Badminton Championship 2015, one of the biggest talent hunts for the future badminton star of India.
Its tag line is 'Play for Happiness' and its aim is to reinforce the brand values of health and wellness while encouraging family time, teamwork and togetherness.

Making a difference
Vighnesh Shahane, CEO of IDBI Federal Life Insurance, a former Ranji player from Mumbai, said that sports inspires people to develop into responsible, mature winners who can make a real difference.
"And what better opportunity for us than to partner the discovery and the nurturing of cricketing talent", he asks.

Insurers see this as an opportunity to be seen as long term partners rather than short term associates in an individual's life. Like Shahane says, "I am confident the Foundation will be a stepping stone for the stars of tomorrow.
"All our associations with sports and fitness properties will emerge from this philosophy of shaping a better tomorrow."
Globally too, sports and insurance are natural partners. Manchester United and Aon, a leading global provider of risk management, insurance and reinsurance brokerage, and human resources solutions have a long-term business partnership.
Chugh said, "Even our partner Metlife has been associated globally with badminton and it was an easy decision for us. It is a family sport and it is the most played sport after cricket."

Another way the brands hope to make a difference is by associating with non-cricketing events and within cricket, to go for the less-funded functions.
Thus IDBI Federal looks at a bowling academy, Cigna at marathons while PNB Metlife chooses badminton.

Associating with sports also helps insurance companies differentiate themselves from the banks that many are a part of.
A senior insurance official quipped that even after being in the life insurance industry, he finds people mixing up the insurance brand with the parent bank or non-banking finance company.
"We aim to build a better brand perception and awareness that is different from that of the parent company," he said.

ON THE FIELD
Cigna TTK is associating with the Standard Chartered Mumbai Marathon for the second time in a row
PNB Metlife sponsors the national junior badminton championship
IDBI Federal Life has set up a bowling academy in association with Mumbai Cricket Association