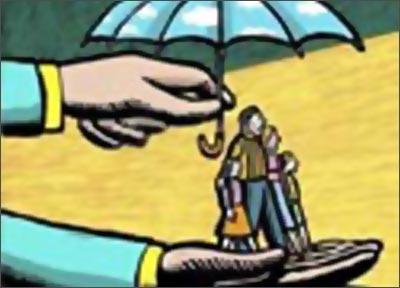 But, neither were the big companies interested in growing inorganically nor were the smaller ones ready to offer themselves for sale.
The insurance sector is growing at a rapid pace, particularly in the non-life segment. A recent focus on crop insurance would add to the momentum for three years at least, senior sector executives said at the Business Standard Insurance Round Table on Friday.
Consolidation is inevitable. But, neither were the big companies interested in growing inorganically nor were the smaller ones ready to offer themselves for sale, the panelists said.
This was because growth was so healthy that consolidation could be a distraction from reaping what was available naturally.
The panel comprised G Srinivasan, chairman and managing director of New India Assurance; Arijit Basu, managing director and chief executive officer of SBI Life Insurance; R M Vishakha, managing director and chief executive officer of IndiaFirst Life Insurance; Bhargav Dasgupta, managing director and chief executive officer of ICICI Lombard General Insurance; and Sanjay Kedia, chief executive of Marsh India Insurance Brokers and also president of the Insurance Brokers Association of India.
The sector is growing at 30 per cent annually. The crop insurance product has been an ace up the industry's sleeve.
The government wants crop insurance cover to improve from 22 per cent of farmers to 50 per cent in two years.
This, said Srinivasan, would reduce "incidents like farmer suicides; farmer miseries would be eliminated to a great extent".
"As a general insurer, we are immensely benefited as this year the industry is growing at more than 25 per cent and a large part of the growth is led by crop insurance. If this is going to move up to 40-50 per cent, I see the industry's growth at 30 per cent-plus in the next three years."
The premium collected has crossed Rs 1 lakh crore and the thrust on crop insurance would mean the premium collected could touch Rs 1.80 lakh crore in the next few years.
"Crop insurance was part of our miscellaneous segment. Today, crop insurance is the largest, after motor and health," said ICICI Lombard's Dasgupta.
Life insurance, too, has seen a boost, growing 12 per cent in 2015-16. This financial year has been "particularly good," said Basu, head of the largest private life insurer in the country, SBI Life. Demonetisation had had no impact on SBI Life, he said.
December is usually a good month for life insurance companies. The prospects looked brighter in the medium term as a lot of savings has come into banks and customers are looking for opportunities.
"The outlook is good mainly because we are able to to newer segments," Basu said.
Vishakha of IndiaFirst said demonetisation seemed to have had a positive effect across sectors.
"We don't have statistics to prove it, but I think demonetisation is doing a lot of good. I believe moving all savings into a formal channel (is) leading to an increase in demand. Otherwise, you don't see this sudden surge of demand in all industries. We have not seen any other external factors, so you really don't have any other option but to bring it down to demonetisation. It could be a base effect, because there was de-growth last year, but it's also moving from informal to formal channels."
Kedia of Marsh India was cautious.
"Overall numbers have been good, but are we growing in all the segments? Some of the segments could have been better," he said, pointing to the stagnant growth rate in home insurance and corporate premium. But "the overall growth should be celebrated". The executives also defended the notion that the sector had not moved effectively to a digital platform.
The nature of insurance is such that customers would want advice from someone before buying a product. Digital is not a given even in mature markets as a lot of verification has to be done before selling an insurance product, they said.
Vishakha suggested using social media websites to collect information about a customer. But those practices were yet to be accepted fully, she said.
"We can't expect insurance policies to be bought like train tickets," Srinivasan countered. "Experience all over the world is that the customer would like to do lot of research online but when they want to actually buy, they would like to touch and feel the insurance product."
Kedia objected to the regulation that for reinsurance, product preference should be given to General Insurance Company-RE and then to a few multinationals.
"That obviously is highly monopolistic and restrictive as an approach. The industry is hoping that the regulation is not implemented," he said.
However, the rest of the panelists suggested that the regulator won't do anything that would harm the consumers.
"We have realised that the intention of the regulation is 'do not ignore the Indian market'. None of us has problems with that," said Srinivasan, adding 93 per cent of the premium stayed within the country and the regulator probably wanted to protect that.
The industry is getting crowded, said panelists. As many as 15 companies have less than two per cent market share. Consolidation is inevitable.
"There could be some large national players and then niche specialists and even geography specialists. But you will see some consolidation," said Bhargav.
Basu of SBI Life ruled out any consolidation for two years.
Srinivasan said the insurance regulator should temporarily freeze entry to the space, as it was getting crowded.
Illustratation: Uttam Ghosh/Rediff.com.