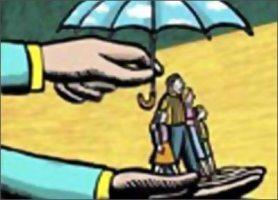 Global re-insurer Swiss Re's sigma study on world insurance in 2013 said India stood at 15th position in the world in terms of premium volume.

In 2012, it was at 14th position.

The study showed insurance penetration in India fell to 3.9 per cent in 2013 compared to four per cent in 2012.

India's life insurance penetration was 3.1 per cent, while in non-life insurance it was 0.8 per cent.

Insurance density stood at $52 (about Rs 3,120) compared to $53 (about Rs 3,180) in 2012.

In the world average too, both insurance penetration and density saw a fall.

Globally, premiums written in the global insurance industry grew by 1.4 per cent in real terms to $4,641 billion in 2013 after a 2.5 per cent increase in 2012, said its latest sigma study.

Insurance penetration refers to premiums as a percentage of GDP, whereas insurance density (measured in $) refers to per capita premium or premium per person.

The slowdown was primarily due to weakness in the life sector in advanced markets.

Global life premiums were up only 0.7 per cent in 2013, with weak sales in North America and the advanced Asian markets offsetting a strong performance in Western Europe, Oceania and most emerging markets.

Non-life premiums grew by 2.3 per cent, also less than the previous year, as growth slowed in the advanced and emerging markets.

Overall profitability in the life and non-life sectors improved, despite the impact of
still low interest rates on investment returns.
India saw a 0.5 per cent growth in life premiums for the period, whereas non-life premiums saw a 4.1 per cent growth.
Total premiums for India stood at $66 billion (Rs 3.9 lakh crore approximately), up by 1.2 per cent.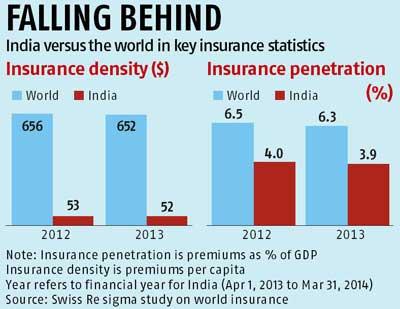 World premiums were up by 1.4 per cent at $4641 billion (Rs 278.46 trillion approximately).
Premium growth in the advanced Asian markets was flat relative to the previous year, further offsetting the sector's strong performance in other regions.
At global level, life premiums grew by just 0.7 per cent in 2013 to $2,608 billion -- down from 2.3 per cent growth in 2012. Premiums in the US contracted sharply by 7.7 per cent due to the non-recurrence of large corporate deals which had boosted group annuity business in 2012.
The study said life premium growth was expected to resume in the advanced and improve in the emerging markets.
The firming economy and labour markets in the advanced markets will support the life and non-life sector, and growth in the emerging markets should hold up also.
"In the life sector, China and India in particular should see a return to higher growth rates," said the Swiss re sigma study.
Overall profitability has improved in the life and non-life sectors.
However, the study said investment returns, an important component of insurers' earnings, remain low given the very low level of interest rates since the 2008 financial crisis.