From farm to kitchen: Nestlé reveals the secret behind the production of Maggi.
Arnab Dutta reports.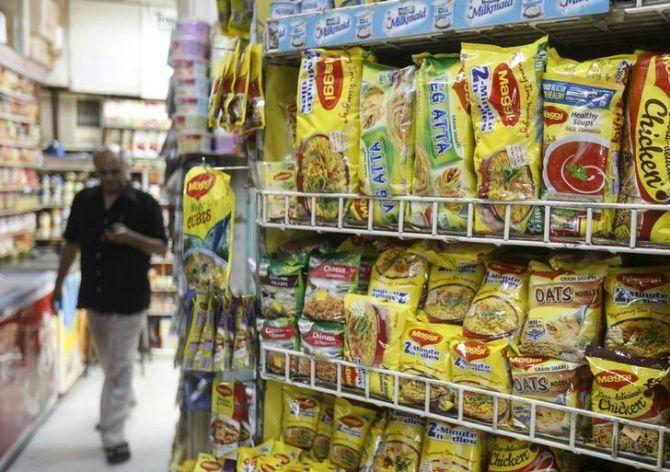 Photograph: Shailesh Andrade/Reuters
Whether in lunch boxes or during a late night-binge, Maggi has been a constant companion for many. But, the method of preparing the two-minute instant noodles was kept a secret, even when Maggi was banned in 2015, raising speculation over the quality of ingredients in its production.
Not any more.
As the iconic brand turns 35 this year, maker Nestlé has opened the lid.
Now, Maggi lovers can watch the entire process of these are prepared in the factory, moving Nestlé a step further towards engaging with consumers by highlighting the safety aspect. The firm has launched a campaign that aims to explain the noodles' journey, from farm to kitchen.
To begin, there are two promotional videos.
The first is a proposed television campaign, kuch achha pak raha hai (something good is cooking).
The second one takes consumers through a Maggi production unit, where the instant noodles pass through eight stages before getting packed in the retail form.
In 2015, questions were raised over alleged use of carcinogenic elements in the Maggi masala (tastemaker). A video to be released soon will apparently open the secret.
It is a big change.
A firm that had kept the doors of its Maggi factories closed for years, opened these for the first time to this publication in December 2015, after Maggi was back on retail shelves.
Since then, Maggi has regained much lost ground and Nestlé believes the time is ripe for further engaging with consumers.
Many, including Nestlé India's current chairman and managing director, Suresh Narayanan, believe the ban was a crucial point in Maggi's journey since 1983.
It also had wider implications for the instant noodles market. According to data from the World Instant Noodles Association, the world's fifth-largest market had shrunk 40 per cent in 2015.
The brand began with one variant and later diversified into sauces, pastas and masalas.
Demand abroad pushed Nestlé India and its partners to export to the United States, the United Kingdom, Canada,Singapore, Australia and New Zealand.
At its peak in 2014, Maggi clocked ₹29.6 billion in sales, garnering 77 per cent of the ₹3,600 crore Indian instant noodles market. That was around 30 per cent of Nestlé's India's sales.
Following its re-entry, while Maggi's market share has grown steadily from zero in November 2015 to 50 per cent in April 2016, Nestlé has focused on the health aspect and launched over half a dozen new variants.
The salt component in noodles is down by a third over the past decade and the plan is to further cut it by 10 per cent in the next two years.
Today, the 'ready to cook and cooking aid' category, primarily Maggi products, contributes 27 per cent to Nestlé's sales.
While the worst is probably behind, concerns remain.
Globally and in India, consumption of instant noodles is down.
All major markets, including China, Indonesia, Japan, Vietnam,India and the US, have witnessed falling sales since 2012.
Thus, Nestlé's bet on a healthier Maggi, with low-risk ingredients and varieties, seems a step in the right direction for the brand.