A platform that helps retailers reduce failed transactions while keeping the cost down, Innoviti is all set for India's digital payments revolution. Alnoor Peermohamed reports.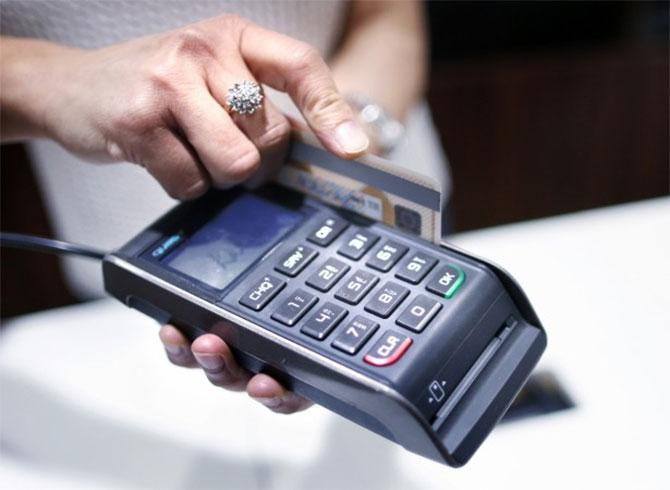 Photograph: Reuters
Rajeev Agarwal likes to think of Innoviti, the fintech firm he founded in 2002, as the Google Maps for the retail payments industry.
"In Google Maps, if you're going from place A to place B, the map tells you there's traffic here so take a different route. We started doing this with transactions by looking at the history of how they travelled through our network and then suggesting the best route," says Agarwal.
Today, Innoviti processes one-fifth of all digital payments made at large retail stores, but it has morphed and changed many times in its 15-year history.
In its latest avatar, Innoviti is a venture-backed fintech firm that helps remove inefficiencies in making payments. It has so far raised close to $25 million as it also looks to tie in newer payment methods such as UPI, Bharat QR and even digital wallets into the age old PoS terminals.
Expert Take: Digital will make up 30 per cent of retail spending in 7 years
There is a huge opportunity on the acquiring side of the digital payments business, and I think it will grow massively moving forward. This is extremely important as well, because if we do not have the acquiring side set then switching to cashless will not happen.
Any company like Innoviti is in a low-margins payment business, so they have to find ways to utilise the payment information to grow into other things such as lending. But payments is the funnel that then opens up into all these other financial services. It is only a matter of time before lending based on the acquiring data becomes an integrated service.
If you talk about the payments industry, there's an estimated $2 trillion worth of retail spending happening, of which approximately 10 per cent is digital. If we go back 10 years, digital payments contributed to just 3 per cent. If we take the same rate of growth, it is possible that digital will make up 30 per cent of retail spending in the next 5-7 years, but with the way things are going that could hit 50 per cent as well.
Concept
Innoviti's shift to a product company came when Reliance Retail, one of the largest retailers in the country, approached it in 2008 to build a solution that would track payments made at its stores. Agarwal jumped at the opportunity and in no time was catering to most of the country's largest retailers, Reliance, Titan and the Future Group.
"The product was initially targeted at large organised retail customers, and that was the time that organised retail was just kicking off in India. Anybody who was looking at managing their payments better by reducing costs, improving the customer experience and receiving insights was our customer," says Agarwal.
With software that tied into the ERP systems of large retailers, Innoviti flourished. The company was even profitable as it moved to tap more customers as India's organised retail sector grew.
But in 2015, when e-commerce began to change the landscape, Agarwal knew he needed to pivot his company once again.
The day was for a solution to improve the reliability of digital transactions, and Innoviti launched its platform UniPay, which would transfer money through the best route based on data it had collected. Realising that this would require investments, Innoviti raised its first round of $5 million, led by Narayana Murthy's Catamaran Ventures.
Agarwal says the biggest validator for the technology Innoviti has built happened during demonetisation. While digital payments on all networks spiked, so did failures due to lack of bandwidth. The industry standard for successful transactions was just a little higher than 80 per cent; Innoviti was able to manage a transaction success rate of 96 per cent.
Opportunity
The opportunity for digital payments in India is almost limitless.
With only a fraction of retail payments being made digitally today, Innoviti believes the use for its service has only begun. Moreover, while the value of transactions made at large retailers remains high, Innoviti has moved to serve smaller retailers in search of greater volumes.
Despite processing over ₹15,000 crore in transactions annually and installing 30,000 PoS terminals across the country, Agarwal believes Innoviti is only scratching the surface. "There is space for 10 more Innovitis before we even have to start worrying about competition," he says.
While demonetisation provided a much needed shot in the arm for India's digital payments industry, GST will be a bigger game changer. Smaller merchants who often collected payments in cash to evade the taxman will now have no option to hide this income. This will level the playing field between cash and digital payments.
"There will be significant growth driven by three things: retail continues to grow in India, consumers will continue to spend more as disposable incomes go up, and more consumers will pay digitally. These vectors will keep growing and Innoviti benefits from all three," says Vishal Gupta, managing director of Bessemer Venture Partners, which has invested in Innoviti.
The higher the volume of transactions, the higher the revenue for Innoviti. In the six large metros and with retailers who have some heft, Innoviti takes a direct cut from the transaction value. In smaller towns, the company chooses to work with banks and other partners on a revenue share model.
Future
In the past year, the government has begun pushing new payment methods such as UPI, Bharat QR Code and Aadhaar Pay. Technology giants such as Google, Apple and Samsung are planning an entry into the retail payments space through NFC payments. For Innoviti, providing retailers with access to payments in any of these forms provides a business opportunity.
"We will allow merchants to accepts payments from multiple outlets so that they can give choice to the customer. Innoviti will give you an interface through which you can pay through whichever channel," adds Agarwal.
The core innovation at Innoviti for now will be to continue to drive more efficiency in payments, helping retailers improve customer experience while maintaining lower costs. The piece of integrating several payment methods on top of that will add value as more consumers begin to pay digitally.
---
Recommeded for you