'Modi must keep his members in check or risk losing domestic and global credibility,' Moody's warned.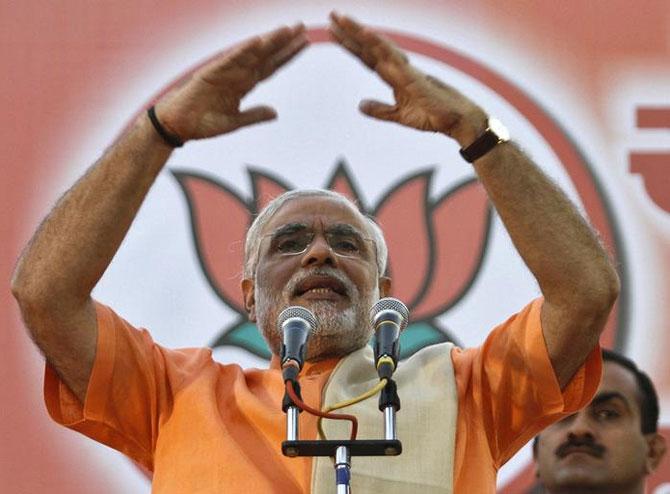 Against the backdrop of controversies like on beef, Moody's Analytics on Friday, October 30, cautioned Prime Minister Narendra Modi that the country may lose domestic and global credibility if he doesn't rein in members of his party.
In a report titled India Outlook: Searching for Potential, Moody's Analytics said for the country to reach its growth potential it has to deliver the promised reforms.
'Undoubtedly, numerous political outcomes will dictate the extent of success,' it said.
The ruling Bharatiya Janata Party does not have a majority in the Rajya Sabha and crucial reforms bills has been met with an obstructionist Opposition. 'But in recent times, the government also hasn't helped itself, with controversial comments from various BJP members.'
'Along with a possible increase in violence, the government will face stiffer opposition in the Upper House as debate turns away from economic policy. Modi must keep his members in check or risk losing domestic and global credibility,' Moody's said.
It projected that India's gross domestic product growth for the September quarter at 7.3 per cent, while for the full fiscal it would be 7.6 per cent.
'Key economic reforms could deliver greater potential gross domestic product, as they would improve India's productive capacity. These include the land acquisition bill, a national goods and service tax, and revamped labour laws. They are unlikely to pass through Parliament in 2015, but there is an even chance of success in 2016,' Moody's said.
As regards interest rates, Moody's said low rates will buttress the economy in the short-term, but reforms are needed to reach long-term potential growth.
The Reserve Bank of India kick-started the recovery by cutting the repo rate by 1.25 per cent this year.
Moody's felt positive signs are emerging with the State Bank of India, the nation's largest bank, cut its base lending rate earlier this month.
"Capacity utilisation has been low across industries this year," Moody's added.
'The capital expenditure pipeline is running dry. However, interest rate cuts should encourage investment as it will soften the inflation profile,' it added.
Moody's Analytics, the research and analysis arm of Moody's Corporation, projected the RBI to keep rates on hold for the remainder of 2015, with a small chance of another cut early next year.
It, however, cautioned that Indian equities have suffered loss in global and domestic investors.
'The Sensex has fallen around 11 per cent since the euphoria behind the new government propelled the stock market. But consistent failure to deliver key economic reforms has faded the optimism,' it added.
As regards the impending US rate hike, it said: 'The rupee will likely come out relatively unscathed thanks to the RBI's bulging foreign exchange reserves stockpile.'
The slowdown in global growth will prove a major headwind for Indian exporters, Moody's said, adding that the fall in exports from 2015 is expected to continue in 2016.
'The newfound stability in India's current account balance could come under renewed stress if global growth slows more. So far, lower oil prices have buttressed the trade balance. But a rebound in prices if oil supply rebalances could see the trade balance deteriorate,' Moody's warned.
There are indications, Moody's said, that investors have been less optimistic about India's economic prospects.
Net financial flows into equity were around $16 billion in 2014. However, they are unlikely to reach those highs this year. The same can be said about financial flows into India's debt market, Moody's added.
The RBI is consistently looking to improve India's banking and financial structures, Moody's said, adding, 'We believe a move towards full capital account liberalisation is inevitable in India.'
'This will likely occur in the next two to four years,' it felt. 'A freer capital account will give Indian companies greater access to overseas markets, lower borrowing costs, and facilitate credit growth -- a key ingredient to increasing investment.'
IMAGE: Prime Minister Narendra Modi. Photograph: Amit Dave/Reuters
© Copyright 2021 PTI. All rights reserved. Republication or redistribution of PTI content, including by framing or similar means, is expressly prohibited without the prior written consent.