Finance Minister Nirmala Sitharaman on Wednesday announced hiking the capital expenditure by 33 per cent to Rs 10 lakh crore for infrastructure development for 2023-24 and will be at 3.3 per cent of the GDP.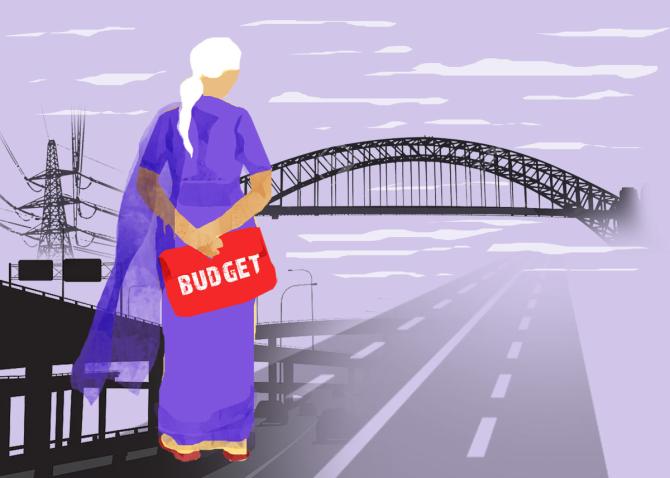 Presenting the Budget for 2023-24, she said the newly established infrastructure finance secretariat will assist in attracting more private investment.
"Capital investment outlay is being increased steeply for the third year in a row by 33 per cent to Rs 10 lakh crore, which would be 3.3 per cent of GDP.
"This will be almost three times the outlay in 2019-20," Sitharaman said.
According to the minister, the Harmonized Master List of Infrastructure will be reviewed by an expert committee for recommending the classification and financing framework suitable for Amrit Kaal.
She said one hundred critical transport infrastructure projects for the last and first-mile connectivity for ports, coal, steel, fertiliser and foodgrains sectors have been identified.
"They will be taken up on priority with an investment of Rs 75,000 crore, including Rs 15,000 crore from private sources," she said.
The finance minister said investments in infrastructure and productive capacity have a large multiplier impact on growth and employment.
After the subdued period of the pandemic, private investments are growing again.
"The Budget takes the lead once again to ramp up the virtuous cycle of investment and job creation," she added.
On October 13, 2021, Prime Minister Narendra Modi launched the PM Gati Shakti - National Master Plan, aimed at developing an integrated infrastructure to reduce logistics costs.
All logistics and connectivity infrastructure projects, entailing an investment of over Rs 500 crore, are routed through the Network Planning Group (NPG), constituted under the PM Gati Shakti initiative.
Commenting on the Union Budget 2023-24, Road Transport and Highways Minister Nitin Gadkari said this year's Budget is envisioning a prosperous and inclusive India in which the fruits of development will reach all sections and citizens, especially our youth, women, farmers, OBCs, SCs, and STs.
This budget will equip India with new-age infrastructure, decline imports and strengthen our energy sector with a futuristic approach, he added.
The Union Budget 2023-24 has allocated an enhanced outlay of Rs 2.70 lakh crore for the highways sector.
An allocation of Rs 1.99 lakh crore was made for the highways sector for 2022-23, which was revised to Rs 2.17 lakh crore.
© Copyright 2023 PTI. All rights reserved. Republication or redistribution of PTI content, including by framing or similar means, is expressly prohibited without the prior written consent.