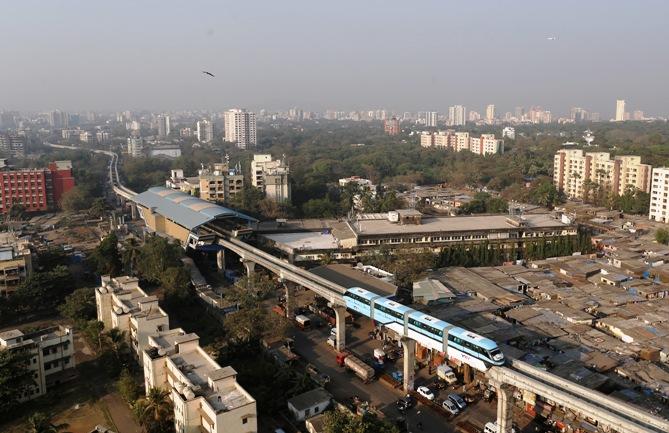 The most effective way to start a revival of the investment cycle would be to get some of the many stalled infrastructure projects up and running.
A lot of money - upwards of Rs 3 lakh crore (Rs 3 trillion) - is stuck in stalled projects.
If things start moving again, it would not only rescue those investments, but also give investors and developers confidence to take up new work.
A few issues crop up repeatedly when the traffic jam is discussed.
The government will have to deal with those. One issue is land acquisition. A second is major delays in environmental and other statutory clearances.
A third is contractual disputes. A fourth is unrealistic assumptions, which make many projects financially unviable.
Delays in themselves may lead to projects becoming unviable as interest costs mount while revenues stay at zero.

Land acquisition-related issues are tricky and often involve state laws and agencies as well as the Centre.
The old Land Acquisition Act was a colonial legislation from 1894.
Invoking it created resentment that led to massive civil society opposition and even Maoist insurrections.
The new law (which the BJP voted for, while in Opposition) is flawed in other ways. In effect, land can be acquired under the new law only at a massive expense, if it can be acquired at all.
There is talk of changes.
It is always a tricky task to modify legislation.
Not only will the law have to change in the right ways, but it will have to change quickly to make a positive impact on stalled projects.

The government will also have to speed up processes for environmental, forest and other statutory clearances.
Part of the problem here is the lack of coordination between government departments and that should certainly be handled.
Various departments also have lackadaisical processes, which can be accelerated.
Corners will almost certainly be cut in trying to clear projects too quickly.
India could, therefore, be headed for a cycle of massive environmental degradation if it emulates China and clears projects in a hurry without due heed paid to genuine concerns about sustainability.

Contractual disputes often arise when there are ambiguities in model concession agreements (MCAs) in PPP (public-private partnership) projects.
When risks are imperfectly defined and allocated in partnerships, problems are guaranteed.
Given the slow nature of India's arbitration and justice systems, these drag on for years. Here too, the government can modify MCAs to reduce the chances of risks by taking care of known problem areas.
It could also speed up arbitration processes. Unrealistic assumptions arise in several ways and might require case-by-case handling.
Projects can make large errors in revenue estimates.
Some road projects, for example, saw traffic over-estimations and over-optimistic tolling assumptions. Corporations can over-bid and offer too much in the way of revenue share.
The winner's curse may occur in telecom auctions.
Cost structures may change as in power plants using gas or imported coal.

The Budget is making a large wager that the new administration will be able to do what it takes to tackle many of these issues.
Large allocations are being made to various infrastructure sectors. There are ambitious plans to induct private funding and expertise via PPP.
There are ambitious targets set for capacity expansions and a focus on new areas like smart cities and inland waterways.
Banks have been given a chance to lend long-term funds to the infrastructure space, while bypassing normal controls such as cash reserve ratios (CRR), statutory liquidity ratios (SLR), etc.
Banks already have a large proportion of sticky assets in infrastructure, especially in power and roads.
There are inherent asset-liability mismatches. Infrastructure lending has to be for the long term and most bank deposits are in the one-three-year range.
The RBI's new guidelines assume seven years for infra exposure. It would be throwing good money after bad for banks to increase their infra exposure if there is no real turnaround.
The last few months have seen the infrastructure space buoyed by hopes. The 24-stock CNX Infrastructure Index has returned 33 per cent since January 1, 2014.
This is a strong outperformance versus the Nifty which has returned 22 per cent in that period (there are six stocks in common).
The real outperformance came after the election results. The infra index is up 17 per cent since the election results (May 16-July 18) versus 8 per cent returns for the Nifty.
If the underlying assumptions of the Budget are correct, the infra space could continue to see outperformance.