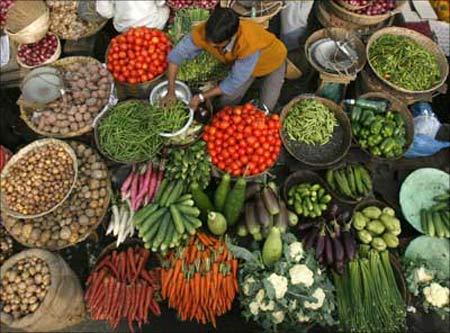 Inflation declined to a five and a half year low of (-) 0.39 per cent in January as manufactured and fuel items turned cheaper. However, price of food items remained high.
Inflation measured on wholesale price index (WPI) was at 0.11 per cent in December. The data for November was revised downwards to a negative (-)0.17 per cent, from the provisional estimate of zero.
However, food inflation witnessed a rising trend in January and scaled to a six month high of 8 per cent, as per the government data released on Monday.
Inflation in pulses, vegetables and cereals was higher in January over the previous month.
On the other hand, the rate of price rise in potato, milk, rice and protein rich items like egg, meat and fish was slower in the month under review.
Inflation in 'fuel and power segment' was negative at (-)10.69 per cent, while in manufactured products it was 1.05 per cent.
The data further showed that the contraction in WPI inflation for petrol was steeper at 17.08 per cent in January from 11.96 per cent in December. Similarly the rate of decline in diesel prices last month was higher than in the previous month.
The inflation in the primary articles segment inched up to 3.27 per cent in January, as against 2.17 per cent in December.
The last time the inflation had touched this low level was in June 2009 when it was at (-) 0.4 per cent.
RBI Governor Raghuram Rajan, in the monetary policy review earlier this month, kept key interest rate unchanged saying the apex bank wanted more comfort on inflation front as it awaited cues from Finance Minister Arun Jaitley's first full year Budget.
Rajan said retail inflation was likely to be around the target level of 6 per cent by January 2016 but flagged monsoon and oil prices as upside risks.
As per data, retail inflation moved up to 5.11 per cent in January month-on-month, measured on a new base year 2012, mainly due to dearer food items including fruits and vegetables.