Vegetable prices which had witnessed a 21.16 per cent contraction in June, shot up by 21.95 per cent in July.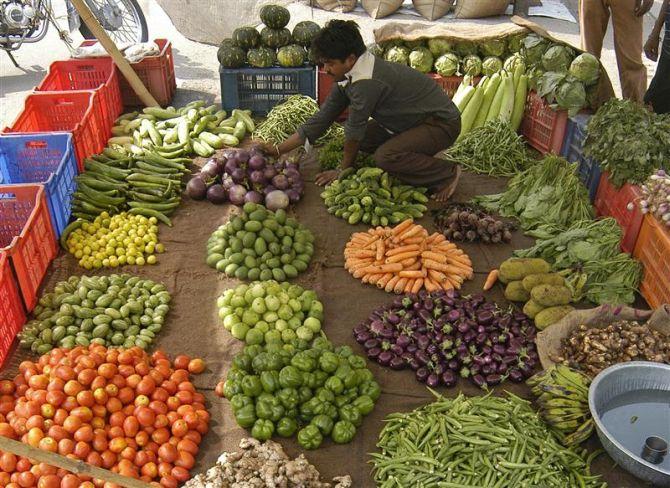 Wholesale inflation rose to 1.88 per cent in July as prices of some commodities increased in the first month of Goods and Services Tax (GST) rollout.
Inflation b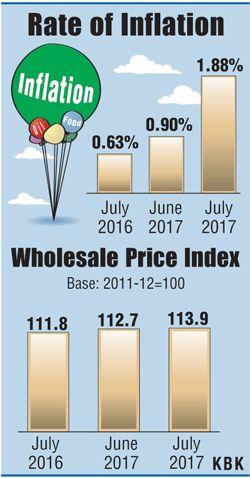 ased on the wholesale price index (WPI) was 0.90 per cent in June 2017 and 0.63 per cent in July 2016.
The government data released on Monday showed that prices of food articles went up by 2.15 per cent in July on a yearly basis.
In June, the prices had contracted by 3.47 per cent.
Vegetable prices which had witnessed a 21.16 per cent contraction in June, shot up by 21.95 per cent in July.
However, manufactured products saw slight fall in inflation at 2.18 per cent in July, compared to 2.27 per cent in June.
In fuel and power segment, inflation witnessed a decline at 4.37 per cent in July, over 5.28 per cent in the previous month.
Apart from vegetables, the food articles which saw rise in prices include egg, meat and fish where inflation stood at 3.30 per cent. Fruits saw inflation at 2.71 per cent, cereals (0.63 per cent) and paddy (3.47 per cent).
However, potato continued to see deflation at 42.45 per cent, pulses (-)32.56 per cent and onion (-)9.50 per cent.
The final print of May WPI inflation witnessed a little surge at 2.26 per cent, as compared to provisional estimates of 2.17 per cent.
A nationwide GST was implemented on July 1 which combined a plethora of central and state levies into a four tier tax structure of 5, 12, 18 and 28 per cent for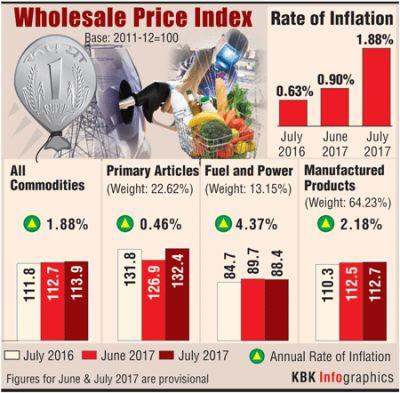 all goods and services.
Data released last week showed that industrial output hit a four-year low and contracted 0.1 per cent in June, mainly on account of decline in manufacturing and capital goods sectors.
Earlier this month, the Reserve Bank cut policy repo rate by 0.25 per cent to 6 per cent citing reduction in inflation risk.
The rate cut was the first in 10 months and brought policy rates to near 7-year low.
The RBI said it will endeavour to keep retail inflation close to 4 per cent but in the near term, there might be some uptick on account of pay commission payouts and price adjustments post GST rollout.
The data for July retail inflation is due later in the day.