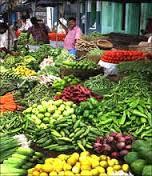 Retail inflation for industrial workers remained almost flat at 7.02 per cent in May compared to 7.08 per cent in April mainly due to lower price of petrol.

"The year-on-year inflation measured by monthly CPI-IW stood at 7.02 per cent for May as compared to 7.08 per cent for the previous month and 10.68 per cent during the corresponding month of the previous year," a Labour ministry statement said.

It further stated that the largest upward pressure to the change in the current index came from Food group contributing 1.65 percentage points to the total change.

At item level, rice, coconut oil, fish fresh, poultry, milk, onion, vegetables, fruits, sugar, cigarette, electricity charges etc. are responsible for increase in the index.

However, this upward pressure was restricted to some extent by petrol putting downward pressure on the index, it added.

According to the data, the food inflation stood at 7.66 per cent in May against 7.76 per cent in the previous month and 13.24 per cent during the corresponding month in 2013.

The all India Consumer Price Index for May increased by two points and was pegged at 244 points.

On one month percentage change, it increased by 0.83 per cent between April and May when compared with the rise of 0.88 per cent between the same two months a year ago.

At the centre level, Coimbatore recorded the maximum increase of 9 points followed by Bhavnagar (7 points)and Amritsar, Mercara (Karnataka) and Tiruchirapally (6 points each).

Among others, 5 points rise in index was registered in 7 centres, 4 points in 11 centres, 3 points in 13 centres, 2 points in 11 centres and one point in 10 centres.

On the contrary, a decline of five points was reported in Giridih, 4 points in Chhindwara, 3 points in two centres, 2 points in one centre and one point in 7 centres, the statement said.

Indices in remaining 9 centres observed no change, it said.

The indices of 35 centres are above and other 41 centres are below national average.

The index of Vishakhapathnam and Chandigarh is at par with all India index, it said.
Please click here for the Complete Coverage of Budget 2014 -15