This came even as the airline recorded the fastest domestic passenger growth rate of 26 per cent.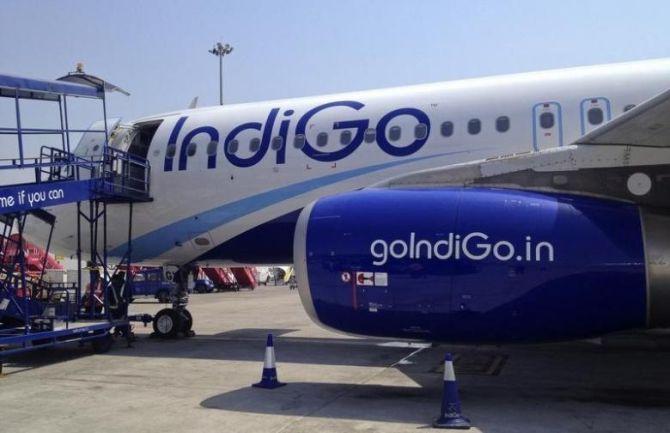 Several top fund managers have exited the counter of InterGlobe Aviation, which operates the country's largest airline by market share, IndiGo.
Put together, fund managers sold shares worth Rs 120 crore of IndiGo in June. This came even as the airline recorded the fastest domestic passenger growth rate of 26 per cent.
HDFC Mutual Fund, UTI MF and DSP BlackRock MF completely liquidated their holdings in IndiGo in June, amid its shares trading near record levels.
On Friday, shares of IndiGo closed at Rs 1,241.7, around four cent below its one-year high of Rs 1,292, touched earlier this month.
"We have been investors in the company since its listing. Most of our schemes have benefited from a good rally in the counter.
So, it was a profit-booking exercise, on the back of a not-favourable outlook for the aviation sector this year.
However, what triggered selling was a sudden interest shown by the company in Air India," said a fund manager.
Adding: "IndiGo continues to be the best bet for investment in the aviation space. Going forward, if an opportunity comes in, we might re-think to buy."
This week, promoters of the airline announced they'd dilute stake to comply with the regulatory framework.
The board of directors is meeting on July 31 to consider paring stake from the current 85 per cent to 75 per cent.
There were 60 equity schemes with collective investment of Rs 1,060 crore (Rs 10.6 billion) in IndiGo as on end-June.
Some of those which have pumped the most in the aviation company are Focused Bluechip, Balanced Advantage and Infrastructure Fund from the stable of India's largest fund house, ICICI Prudential MF.
Another fund house which has held IndiGo for one the longest periods is Motilal Oswal MF. Others include SBI MF, Birla Sun Life MF, BNP Paribas MF and Tata MF.
Indian aviation's domestic passenger growth rate has grown in double-digits for 35 consecutive months.
In June, this growth was 20.2 per cent over a year before; IndiGo remained on top with the highest growth of 26 per cent.
Photograph: Vivek Prakash/Reuters