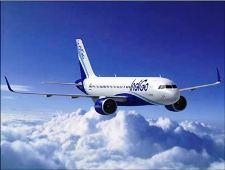 Budget carrier IndiGo will soon start services between Dubai and New Delhi and Dubai and Mumbai, company officials said in Dubai.

The flights between Dubai and New Delhi will begin in September and those connecting Mumbai a month later.

"This is our first foray in West Asia. For a lot of people who travel from this part to India, every dirham counts. People work very hard here and should not be paying exorbitant prices for a three-hour leg," IndiGo president Aditya Ghosh told a press conference in Dubai.

Once the flights commence, IndiGo will be the second no-frills Indian airline and the fourth low-cost carrier to
establish a route between the two countries.
Air India Express, flydubai and Air Arabia fly between the United Arab Emirates and different Indian cities as well.
Ghosh called for more low-cost airlines between the Emirates and India.
The airline official did not rule out connecting other cities in the UAE, including Ras al Khaimah, with India in the future.
Indian expatriates from the RAK recently requested flights home from the emirate, rather than having to travel to Sharjah or Dubai, he said.
The airline will also start operations to Trivandrum and Kochi and Kolkata by the end of this year, he added.
The carrier will also connect Muscat with the sub-continent from October, Ghosh said.