The international operations of Air India seem to be the main attraction for IndiGo, which has also flagged concerns about some foreign overseas airlines being allowed "disproportionate access" to the Indian market.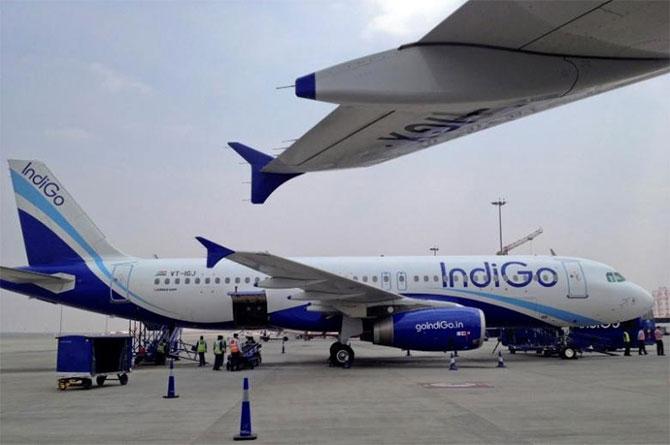 With a market share of over 40 per cent -- and counting -- the country's largest airline IndiGo is charting an ambitious trajectory where Air India might provide the perfect ground for its expansion.
The profitable no-frills carrier, which came into existence in August 2006, also has the largest number of aircraft on order, with more than 450 to be delivered over the coming years.
Run by InterGlobe Aviation, the airline operates more than 900 flights daily to destinations in India and overseas.
In a significant move that reflects its growing appetite, Gurgaon-based IndiGo has announced plans to purchase 50 ATR turbo-prop planes worth $1.3 billion as part of efforts to tap the high growth potential regional aviation market.
IndiGo, while eyeing the "tremendous growth opportunities" in the smaller cities (tier 2 and 3), seeks to be a part of the government's regional air connectivity scheme UDAN by inducting the ATR planes.
Despite intense competition and the entry of new players in the fast growing Indian aviation market, IndiGo has managed to stay the course, while steering clear of common industry practices such as offering frequent flyer programmes.
In May, the airline had a domestic aviation market share of 41.2 per cent, way ahead of low-cost as well as full service carriers, according to the latest data with aviation regulator DGCA.
IndiGo is in the limelight now after showing an interest in buying out Air India's flight operations.
It has written to the civil aviation ministry saying that it would be interested in buying out the international operations of Air India and its low-cost arm, Air India Express.
If that was not possible, it said it would like to buyout the entire Air India flight operations, including domestic flights.
While IndiGo has the wherewithal to board the debt-laden Air India juggernaut, the airline has its share of woes, too.
Engine problems faced by some of its A320 neo-aircraft and the issue of slots at the Dubai airport are among some of the problems it faces.
As it charts out an aggressive path of expansion, there have also been brickbats from certain quarters about its On Time Performance (OTP) claims.
With a fleet of around 135 planes -- all from the Airbus 320 family -- and more additions expected in the current fiscal, the airline has plans to connect more destinations.
Currently, it flies to around 46 destinations.
Reflecting the kind of disruption the no-frills airline has inflicted in the domestic market, aviation think tank CAPA's latest report said IndiGo's unprecedented growth creates a strategic compulsion for others to expand.
"IndiGo has the largest in-service fleet in India at 135 aircraft and the largest order book of any airline in the world at 458 aircraft. Its fleet could expand by up to 46 aircraft during this financial year -- a net addition of almost one aircraft a week," CAPA said on Wednesday.
While remaining profitable for many quarters in a row, the airline saw a slump in its net profit to Rs 440.31 crore in the three months ending March 2017 as a jump in fuel prices took a toll on its bottom line.
InterGlobe Aviation, which made a successful debut in the capital market in late 2015, raised a little over Rs 3,000 crore from the initial public offer that was oversubscribed.
The shares got listed on the stock exchanges in November 2015.
"Offer fares that are always low, flights that are on time, and a travel experience that is courteous and hassle-free," is how IndiGo defines its business philosophy.
Now, the airline might well also be hoping for a hassle-free journey on board Air India.
The international operations of Air India seem to be the main attraction for IndiGo, which has also flagged concerns about some foreign overseas airlines being allowed "disproportionate access" to the Indian market.
With the Cabinet deciding on the divestment of debt-laden Air India, that also has significant share in the international market, IndiGo has expressed its interest in buying the national carrier and its low cost arm Air India Express.
"Over time, India has allowed disproportionate access to airlines of some of the city states in the Middle East and South East Asia. The massive hubs that these airlines have built, significantly benefitted at the expense of India.
"As a consequence of this, India's international air transportation hubs reside outside the geography of our country. It is time for India to take back its fair share of international traffic and bring back this economic wealth to where it rightfully belongs," IndiGo president Aditya Ghosh has said.
In a letter, Ghosh has requested the ministry to treat the letter as an expression of interest in acquiring the international airline operations of Air India and Air India Express.
"Alternatively, we are equally interested in acquiring all of the airline operations of Air India and Air India Express," he said in the letter written on Wednesday.
He also cited IndiGo's track record of consistently being profitable airline with a strong balance sheet.
IndiGo's share stood at 41.2 per cent in the domestic aviation market in May.
The Cabinet has decided to form an Air India-specific Alternative Mechanism to take forward the disinvestment plan.
Various issues, including the treatment of unsustainable debts of Air India, hiving off certain assets to a shell company and de-merger and strategic disinvestment of profit-making subsidiaries, would be looked into.
"We would like to point out that our confidence and ability to build for our country one of the world's largest international carriers is driven by the significant domestic network we have built over the years," the letter said.
In our view, no other carrier is better placed to realise this potential and we would not even dream of embarking on such a journey but for our domestic feed network.
Earlier in the day, civil aviation secretary R N Choubey said that IndiGo has written a letter with an unsolicited expression of interest in the divestment procedure of Air India.
Photograph: Vivek Prakash/Reuters