'The Indian cement sector is the most energy-efficient worldwide, mainly due to modern technology used in the plants but also because of efficient monitoring of a plant's performance on a daily basis, focusing on energy savings and carbon dioxide emission reductions.'
Senior journalist Darryl D'Monte reports exclusively for Rediff.com from Paris.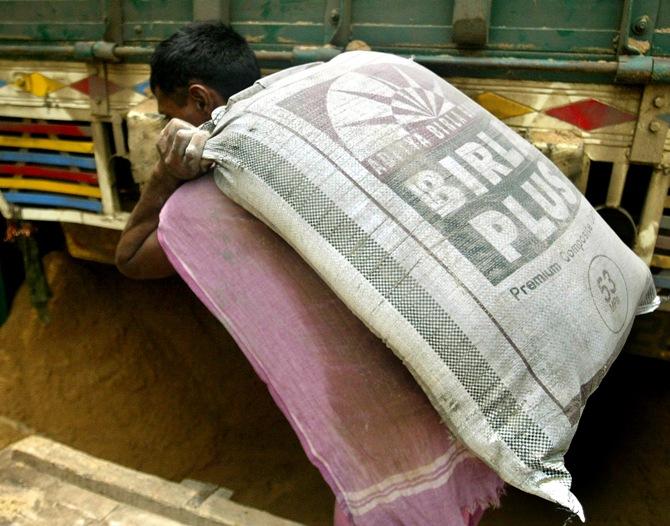 An Indian cement manufacturing company has claimed that this sector has achieved some of the best green rankings in the world.
Cement is highly energy-intensive, with energy accounting for 35-40 per cent of the total cost of manufacture.
Considering that India has embarked on probably the second largest volume of construction for infrastructure and housing anywhere in the world after China, this is a significant development.
Mahendra Singhi, CEO of Dalmia (Bharat) Cement, told a meeting convened in Paris by the Delhi-based CDP India -- Carbon Disclosure Project -- that the company's eastern India operations had registered the globe's lowest emissions of 395 kg of carbon dioxide per tonne of cement.
The Dalmia (Bharat) group recorded 531 kg, while the Indian cement industry average was 586 kg. By contrast, the world average was 660 kg.
The Indian cement industry has also reduced the amount of energy used in 2010 from 747 kilo calories per kilogramme of clinker -- the material produced by heating limestone and other minerals to make Portland cement -- to 727 kCal/kg in 2013.
By comparison, North America uses 913 kCal/kg, Europe 891 and Brazil 851.
Between 201 and 2013, the amount of electricity used to make a tonne of cement in India has reduced from 94 kilowatt hours to 83 kWh.
Comparative figures for North America are 128 kWh, Europe 117, Brazil 105 and China 93.
The government has introduced a Perform, Achieve and Trade market-based scheme. It covers 478 industrial units in eight energy-intensive sectors, including cement.
Two plants belonging to Dalmia Cement were set a three-year period from 2013 to meet energy reduction targets. Both plants were able to meet these through the increased use of blended cement, alternative fuels and energy-efficient measures.
However, India fares poorly on the alternative fuels front. It is only comprises one per cent, as against 30-40 per cent in Europe.
According to Singhi, the industry can raise its use of alternative energy to 19 per cent by2030 and 25 per cent by 2050 if the government supports such a shift.
Under CDP, the cement industry is reporting on a number of indices, such as raw material consumption, energy, carbon dioxide emissions, health and safety. Several of these parameters have been laid down by the Cement Sustainability Initiative, a global programme.
Philippe Fonta, Managing Director of CSI says: "We have developed the most comprehensive database on energy use and carbon dioxide emissions. Over almost a decade of reporting, we have identified general trends and regional specificities.
"The Indian cement sector is the most energy-efficient worldwide, mainly due to modern technology used in the plants but also because of efficient monitoring of a plant's performance on a daily basis, focusing on energy savings and carbon dioxide emission reductions."
CDP asked the 200 biggest Indian companies by market cap to respond to its climate change survey for 2015. As many as 62 responded, including Dalmia (Bharat) Cement, Tata Steel and Larsen & Toubro.
According to Damandeep Singh, CDP India's director, the companies all focused on how to save on energy and were conscious of having to comply with more stringent environmental regulations in future.
In 2014-15, $75 million was directed towards renewable energy by these companies, representing a 218 per cent rise over the previous year.
The New Delhi research group, Centre for Science & Environment, has a Green Ratings Programme which has a different take on the cement industry. In 2005, it published a report titled 'Concrete Facts: The Lifecycle of the Indian Cement Industry'.
'The cement sector is different from all the other ratings GRP has undertaken,' says the CSE. 'By definition, there is nothing called a 'sustainable cement industry'. The cement industry does not fit the contemporary picture of a sustainable industry because it uses raw materials and energy that are non-renewable; extracts its raw materials by mining and manufactures a product that cannot be recycled.'
Having said that, the CSE found that the performance of the industry was not as bad as it had thought.
After thermal power plants and the iron and steel sector, the cement industry is the third largest user of coal in the country. In 2003-04, the industry consumed 11,400 million kWh of power.
CSE rated the MCL-Alathiyur factory in Tamil Nadu the best performer with 51 percentage points. Five plants, including JK Synthetics' cement division and two belonging to India Cement Ltd, were at the bottom of the list, with no points.
Noted the CSE: 'The cement industry is a heavy weight of Indian industry. It is a darling of the stock market, a major contributor to GDP and the country's second-largest taxpayer.
'The industry poses many environmental challenges from mining to waste disposal. The industry has a unique opportunity to address these challenges without hurting the bottom line.'
Image used for representational purposes only. Photograph: Sucheta Das SD/LA/Files/Reuters.
Senior journalist Darryl D'Monte will be filing his despatches from the Paris climate change summit exclusively for Rediff.com.