A buoyant economic mood and tempting discounts, both online and offline, are fuelling a shopping frenzy this Diwali, discovers Dhruv Munjal.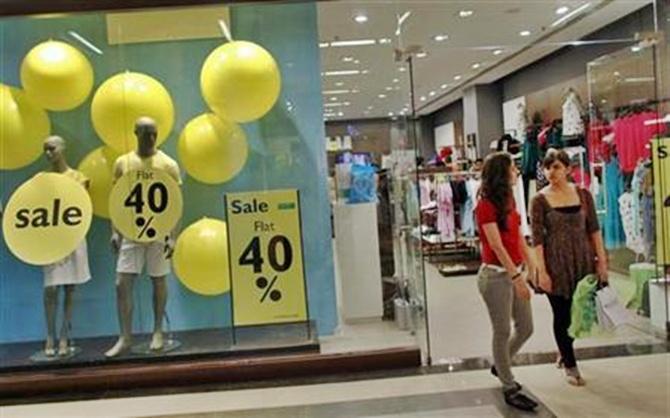 Rajiv Suri refuses to call himself much of a shopper.
One quick glance at him, however, and you would be forgiven for thinking otherwise — the fact that the man likes his clothes is instantly discernible.
On a morning visit to Delhi's Select City Walk mall in Saket, Suri is sprucely dressed: Immaculately-fitted beige chinos coupled with a navy blue polo T-shirt tidily tucked in, complemented by brown moccasins. The nifty watch embellishing his wrist can be spotted from some distance away.
His agenda today, however, is somewhat different. Instead of depleting his wallet on the new winter collections at Zara and Marks & Spencer, the items on Suri's shopping list this time are a shift from the cut-and-dried -- they include lampshades and home furnishings.
For a number of years of his working life -- his is 31 and runs a leather business -- Suri craftily steered clear of such indulgences, often labelling them overly extravagant and extraneous.
This Diwali, though, after some desperate cajoling from his wife -- who, after losing interest in the tedium of seasonal shopping trends, vanishes into a thick crowd of loyal, early morning mall wanderers -- Suri caved in.
"I spent wisely last year. This year, with my business going steady, I just feel I have the capacity to spend more. So, there is a hint of lavish spending," explains Suri, who believes that this might be the best season for shopping in a number of years.
Suri is not alone. In Mumbai, Meenakshi Iyer and her husband, Ganapathy R, follow a fixed strategy for Diwali shopping.
Every year, two days before the celebrations, they spend the evening at the big neighbourhood mall. They spent this Friday at Kurla's Phoenix Market City, where Iyer picked out several Bombay Dyeing bedcovers.
"They were available at a 50 per cent discount and the difference in the online and offline prices was merely Rs 5 to Rs 10," she says.
For Vivek Rana, who works at a South Delhi travel agency, a hugely gratifying appraisal package from his employers earlier this year is helping him spend zealously on home appliances and personal gadgets.
He recently bought an iPhone 6 and is now frantically shuttling between electronics stores, looking for a suitable LED television for his living room.
Assocham recently estimated in a report that customers in the country are likely to spend over Rs 25,000 crore (Rs 250 billion) on festive shopping this year, as against Rs 20,000 crore (Rs 200 billion) last year.
The biggest reason for such buoyancy, market experts say, is a cheerful economy.
A stellar monsoon, coupled with the favourable recommendations of the Seventh Pay Commission, has bolstered the mood even further.
"Last year, there was great tentativeness and apprehension. We are seeing a boom this Diwali because of forward market thinking," says brand expert Harish Bijoor. "There is more optimism around."
Deepa Krishnan, a personal finance advisor who operates from Delhi, feels that with several companies performing reasonably well in the last year, meatier pay packages have seen the customers' purchasing power shoot up significantly.
"You are buying more because you can. It's that simple." Her reasoning comes with a caveat, though. "Spend only on the things you require. Diwali will come around next year too."
According to Vasant Kumar, executive director at Max, the fashion chain run by Dubai-based Landmark Group, Delhi, Mumbai and Bengaluru have seen a 13 to 14 per cent rise in sales running up to Diwali, when compared with numbers during the rest of the year.
Mumbai, in particular, he adds, is riding high on customer enthusiasm.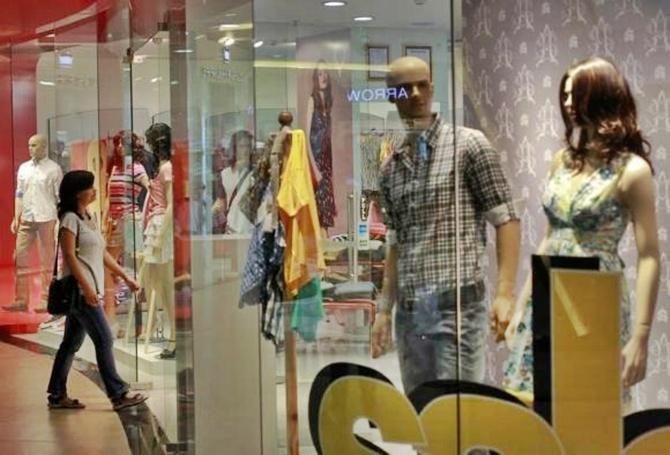 It is little past 8 pm in Delhi. The stifling afternoon heat has given way to a pleasant evening breeze -- people thronging the DLF Promenade in Vasant Kunj gladly embrace the slight chill in the air.
A dense crowd of people heads toward the entrance, which is bedecked with 700 diyas and flowers for Diwali.
Giant billboards telling visitors how they can celebrate a 'fantastic Diwali' by shopping at the mall feature heavily in the background.
Around the same time last year, according to reports, the number of people visiting major malls across Delhi, Mumbai, Chennai and Ahmedabad -- when pitted against numbers that were registered during the rest of 2015 -- slumped by more than 55 per cent.
The supposed deterrents included a sluggish economy, high interest rates and spiralling inflation in consumer goods.
Mall owners sound more upbeat this time. Dinaz Madhukar, senior vice-president and mall head, DLF Promenade and Emporio, says that the registration for its shopping incentives has gone up by more than 40 per cent against last year.
"There is great excitement around, much better than last year."
Rajendra Kalkar, president (west) at Phoenix Mills, which owns shopping centres in Mumbai and Thane, says that they are witnessing a 30 to 40 per cent growth in consumption. "Last time, it was only 20 per cent at this time of the year."
And, not all malls are offering a car as the cliched bumper prize, or meaningless shopping points that seldom fructify into something worthy. They are trying to go beyond the hackneyed, and venturing into more exploratory territory.
At Viviana Mall in Thane last weekend, chef Sanjeev Kapoor was called in to demonstrate his recipes for Diwali snacks, while shoppers from as far as Ambarnath, Kalyan and Ghatkopar made purchases.
To attract crowds, a lucky draw was organised where young celebrities were invited. Restaurants offered small portions of their food in stalls so people could try them at discounted rates.
Buyer sentiment is strong this year, says Rima Pradhan, senior vice-president at the mall. The ticket size of purchases is 8 to 10 per cent higher than last year.
To draw crowds, the mall boosted its marketing spend this year, investing in hoardings, newspaper advertisements and a social media campaign.
Despite most in his generation being somewhat trapped by the e-commerce wave, Suri likes to describe himself as an old-timer: He mostly chooses to have a close look at a product before buying it.
"We are being bombarded by e-commerce every day. But the offline discounts on some products this time are as good as the ones available online," he says.
Suggestions to buy clothing online -- despite the heavy discounts -- are shot down by a gentle wave of the right hand. "I think some people have stopped checking prices in stores because they've become obsessed with online shopping," he quips.
Others, too, seem to be taking cue from Suri, sparking a mini renaissance for brick-and-mortar stores that aren't housed inside popular malls.
Prateek Kotha, a marketing executive from Bengaluru who has a penchant for impressive home décor, likes "to touch and feel, and also visualise how things will look at his home." Sensing long queues at cash counters around Diwali, Kotha wrapped up his shopping for the festival a fortnight ago.
Over at Bengaluru-based Chumbak, whose 'Indian' products invariably end up doing well during the festive season, folks are gearing up for strong sales. CEO Vivek Prabhakar, in fact, predicts a big-bang Diwali.
Forecasting this trend, the design house that was launched online in 2006 and now also has 16 brick-and-mortar stores, has introduced a special 'gold' collection to add to the season bling.
Focusing on the gifting aspect that accompanies this time of the year, the gold collection comprises decor and accessories that come with a metallic twist.
Even at Croma, the electronics store owned by Tata, Ritesh Ghosal, chief marketing officer, says that outlets have witnessed a 30 per cent growth in sales in the last couple of weeks. Visitor drop-in is also up by 6 per cent.
Still, the e-commerce storm refuses to fade away -- at all, some would say.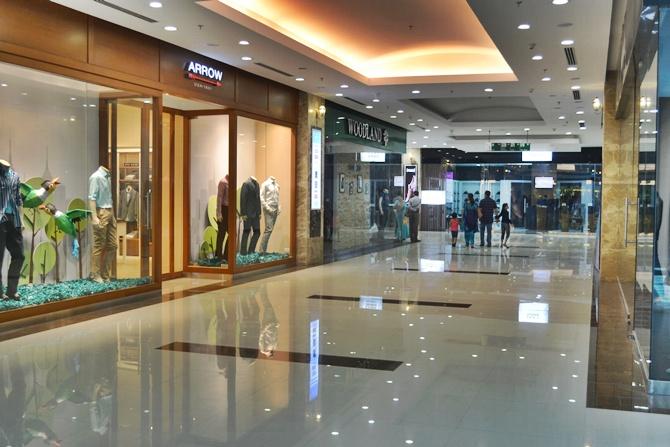 In the barrage of online Diwali sales that e-tailers rolled out earlier this month, the gross merchandise value registered was close to $1.2 billion, with almost 40 million products being shipped out.
By the time October hits an end, that value could hit $1.9 billion, say experts. Hefty discounts on products -- mainly electronics -- will continue to help these companies maintain a Kevlar-like hold on the market.
Perhaps what capture this effervescent shopping mood most succinctly are the purchases made by customers from rural regions in the country.
Amazon, earlier this month, said that 70 per cent of its buyers in its first Diwali sale were from smaller cities and towns -- in a clear confirmation of the expanding e-commerce footprint across India.
While he was with Marico, the health and beauty goods company, Sanjay Gupta remembers how they'd wait with bated breath for the rains "because the sale of coconut oil would dramatically go up if the monsoon had been a good one."
Now the chief marketing officer at online furniture store Urban Ladder, Gupta understands how a particular time can dramatically spruce up sales.
"This is going to be our best-ever month and we are seeing very high growth on the previous quarter as well as last year"s Diwali," he says. "Earlier, people used to buy smaller items online, coffee tables and shoe racks, for example. But this Diwali we've seen people buying beds and sofas."
Over the last quarter, sales for "bigger" products have gone up by 40 per cent at Urban Ladder -- a clear reflection of how buyers are no longer leery when it comes to buying home products online.
Urban Ladder's popularity continues to scale up despite it not advertising the brand. Although the trend of discounts is fairly common, its strategy is to provide complete decor solutions as well as a memorable customer experience.
This is because "discounts have a fairly temporary effect, especially in categories like furniture where people don't shop regularly," explains Gupta. The store's overall sales are up almost 100 per cent from last year.
Others have not been as lucky. In Nehru Place, the capital's computer hub, where unregulated hawkers excruciatingly badger passers-by, commuters frantically haggle with autowallahs, and scores of people stream their way through the area's putrid air, storeowners paint a desolate picture.
Neeraj Jaju, who owns multiple showrooms that sell Apple, Samsung and Dell products, says that it's hardly been a happy Diwali for shopkeepers in the market. "There is no way we can compete with what Flipkart or Amazon is offering. Sales have been very weak."
The only exception to the slide, he adds, is the new iPhone 7, which, because of its gargantuan status value, is flying off the shelves.
Last year, Jaju did brisk business on Dhanteras, considered an auspicious day for buying anything metallic, selling several laptops.
Manish Gulati, a thickly mustachioed middle-aged man who runs a computer peripheries store located bang in the middle of the market, opts to go a step further. October, according to him, is the worst sales month he has endured in recent memory. "People may be buying more, but definitely not from here. Sales from categories all across are down. It's been a dismal Diwali so far."
With greater aspirations and the money to meet them, it seems that the way people shop has also changed.
Ranjita Ganesan, Nikita Puri and Raghavendra Kamath contributed to this report.