Canada and Mexico emerge as preferred destinations to service clients in the US; east Europe and Nordic nations are favoured alternatives
Illustration: Uttam Ghosh/Rediff.com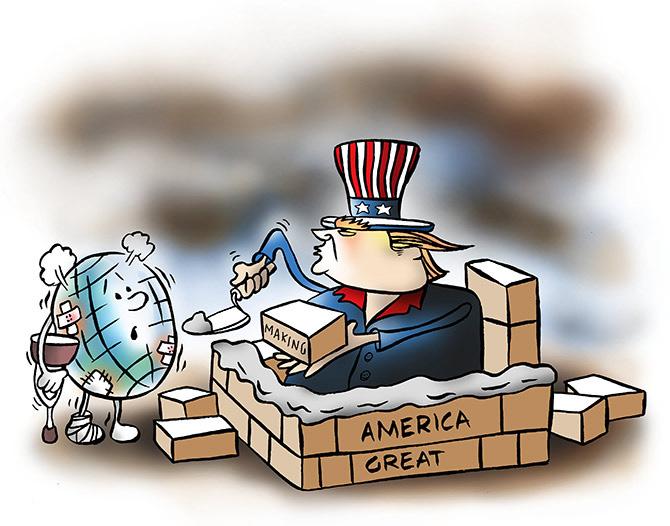 Indian information technology (IT) services firms are increasingly looking at nearshoring options to service clients in the US as restrictive visa regulations in the country are making it difficult for them to depute engineers to this key client geography.
Nearshoring is an outsourcing model wherein IT firms establish delivery presence in countries and locations closer to the client geography and depute employees working in those centres to service clients whenever there is a need.
Analysts are of the opinion that the pace of nearshoring is set to increase with the latest visa norms floated by the Trump Administration, which propose to give priority to advanced degree holders from the US in technology jobs.
"There has been an uptick in the investments being made in nearshoring, and Mexico, apart from Canada, has seen growing interest from Indian vendors," said Hansa Iyengar, senior analyst at London-based Ovum Research.
She added, "Other nearshore activities are centred in Europe where Eastern Europe and Nordics are emerging viable destinations."
Though nearshoring is not a new concept for domestic IT services players, implementation of stricter immigration policy under the current Trump Administration has prompted many IT firms to look at this option quite seriously, apart from localising their employee base.
Since US is the biggest market for Indian IT services players, with more than 60 per cent of revenue coming from the North American continent, IT services firms usually send engineers on H1B visa to work on client projects.
Currently, 60 per cent of H1B visas issued by US go to Indian firms.
However, with the Trump Administration making 'hire local' its priority, IT services players are increasing their local base in nearshore centres as it drastically reduces the dependency on H1B visas as the prime source for talent.
For instance, mid-sized IT company Hexaware has said it would use its Mexico centre to service the US clients.
Similarly, Tech Mahindra has announced this year to set up a centre of excellence in Canada at an investment of 100 million Canadian dollars.
This new centre will develop business solutions in digital technologies for clients.
"IT firms are now investing in Canada as getting a visa from Canada is easier than the US. For all practical purposes, you are working in Canada, but can service a client in the US," said Pareekh Jain, an IT outsourcing advisor.
"This has already reflected in the numbers, as in 2017 India has surpassed Philippines to send the highest number of immigrants to Canada," Jain added.
Though IT services firms are looking at nearshoring to overcome the visa challenges coming from the US, analysts said the solution wouldn't be sustainable due to deployment of high cost resources.
"Nearshoring is not cheap, compared to offshoring, but it provides access to deals that require close proximity between vendor-client teams," Iyengar said.
Even flying out resources from nearshore centres like Canada and Mexico for deployment in client projects in the US has its own challenges.
"Fly-in and fly-out option has to be used very carefully by IT firms because, when engineers fly in to the US, they can only do so for activities permitted on a business visa," said Poorvi Chothani, founder and managing partner at LawQuest and president, Indo American Chamber of Commerce (Western Region) that specialises in immigration laws.
"Even though nearshore centres give one proximity to the clients, there are limited advantages as they (engineers who are sent to the US from these centres on business visa) are not allowed to render any profitable work in the US," she added.