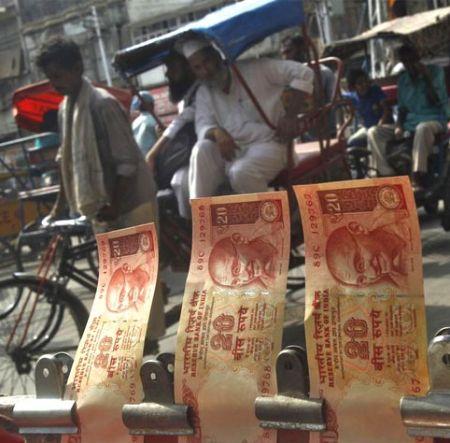 RBI Governor Raghuram Rajan has warned firms the central bank will not bail them out if the currency falls sharply.
The Reserve Bank of India's repeated warnings to companies on hedging foreign exchange loans became relevant again on Wednesday when the rupee corrected to 61.85 against the dollar. The RBI has set the hedge ratio for external commercial borrowings and foreign currency convertible bonds (ECBs and FCCBs) at 15 per cent in July-August, down from 34 per cent in 2013-14.
RBI Governor Raghuram Rajan has warned companies the central bank will not bail them out if the rupee falls sharply.
"This is specifically the type of risk that everyone was worried about. If global risk aversion causes the rupee to depreciate further, many Indian companies may be caught unawares," said Deep Mukherjee, senior director, corporate ratings, at India Ratings & Research, a Fitch group company.
Given the stability of the rupee over the last 10 months, many companies have been tempted not to hedge their foreign currency risk.
"Another driving factor may have been the fact that when the rupee touched 65 to a dollar many companies hedged their positions, only to make losses when the currency appreciated," Mukherjee said.
Discomfort also arises because the one-year forward premium is no less than 7 per cent, and is not showing any sign of tapering in the medium term.
"This itself is a good enough sign for companies to hedge partially as a prudent risk management policy," said Prabal Banerjee, president (international finance) at the Essar group. Companies' reluctance to hedge can be also attributed to a drop in global crude oil prices. Benchmark Brent crude dropped to $83.12 a barrel on Wednesday from $115 on June 19.
Falling crude prices mean the current account deficit and the government's fuel subsidies will shrink. These could stabilise the rupee. But the RBI feels relying on crude prices alone may be a costly mistake.
The central bank has asked banks to factor in unhedged forex exposure before lending to companies.
Bankers, however, said companies were reluctant to disclose their forex loans. "The RBI is fully within its rights to instruct banks how to measure the risk they are carrying. It is reasonable that banks charge clients an additional credit spread if they believe they are carrying excessive forex risk," said Jamal Mecklai, chief executive officer at the Mumbai-based Mecklai Financial Services, a treasury risk consultancy firm.
"Rather than trying to micromanage, the RBI needs to acknowledge the real problem is the domestic forex market is not deep enough to support the needs of the real economy," he added.
"Excess dollar demand (or supply) pushes the rupee out of gear, compelling the RBI to forsake its main goal of inflation control to manage forex volatility."