The economic outlook for two of India's biggest trading partners - China and the euro zone - has dimmed and is expected to drag on the global economy.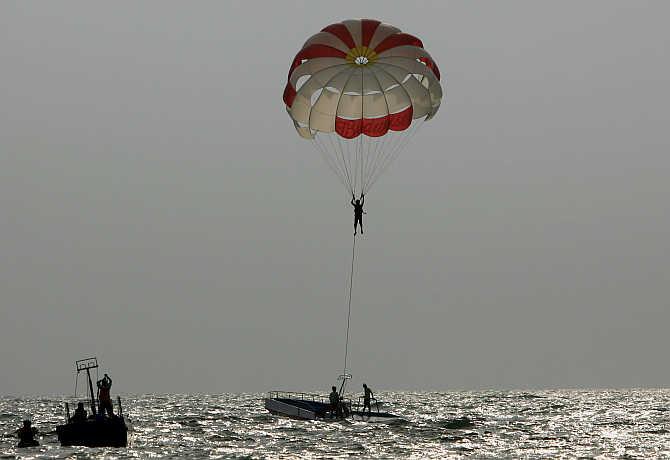 Image: India is likely to grow at a face pace after the government announced a slew of reforms. Photograph: Punit Paranjpe/Reuters
India's economy will likely grow at its fastest pace in two years in the current fiscal year as Prime Minister Narendra Modi implements reforms to attract investment, a Reuters poll of economists showed on Friday.
The after-glow from Modi's election victory earlier in the year helped India's economy clock a robust 5.7 per cent growth rate for the quarter ending in June.
The economy has just lumbered through the longest spell of below-5 per cent growth in a quarter of a century, but forecasts are now predicting that the slump has passed.
Hopes of reforms for economic revival from Modi have attracted foreign capital inflows - before the election in May until now - triggering a massive rally in the stock market, making it one of the best performers in Asia so far this year. That optimism looks set to continue.
"The outlook is improving and that mostly reflects the fact that the new government has pledged to prioritise economic reforms."
"First we saw an improvement in sentiment and now it is translating to actual pick-up in activity," said Tuuli McCully, senior economist at Scotiabank. "Obviously, we really need to see more (reforms).
But as of now, I am encouraged by how things are moving." Over the past month, Modi's government has stepped up economic reforms, opening up the coal industry to private investors and freeing diesel prices to market forces from government subsidies.
The latest Reuters poll of 20 economists taken over the past week shows Asia's third-largest economy will likely grow 5.5 per cent this fiscal year and 6.4 per cent the next, slightly better than 5.3 per cent and 6.3 per cent expected in the July poll.
"India is transitioning away from stagflation conditions, and the much-needed combination of higher real rates, a more friendly investment environment and structural reforms appear to be slowly coming together," wrote Manoj Pradhan, an economist at Morgan Stanley.
However, without big-bang reforms to propel the economy back to a near double-digit growth, economists say, a broader and sustained economic revival will likely remain elusive. Also, the global economy is showing signs of weakening and is expected to weigh on overseas demand for Indian merchandise.
Indeed, the economic outlook for two of India's biggest trading partners - China and the euro zone - has dimmed and is expected to drag on the global economy.
Consumer price inflation - the biggest challenge faced by the Reserve Bank of India - cooled to 6.46 per cent last month, the lowest level since this series began in January 2012, from a revised 7.73 per cent in August.
But the poll showed consumer prices will average 7.5 per cent this fiscal year and ease to 7.0 per cent next year.
"Despite lower inflation prints and the fall in commodity prices, the communication from RBI suggests it will keep monetary policy restrictive in the near term to achieve medium-term price stability," wrote Rahul Bajoria, economist at Barclays.
The RBI is expected to keep its key repo rate steady at 8.0 per cent well into next year, even as a separate Reuters poll in September showed the Sensex would keep setting record highs through to the end of 2015.