Tata Steel, others sell assets abroad after taking massive impairments.
With Tata Steel planning to sell its UK business after admitting an impairment of £2 billion (Rs 19,100 crore approx) on Wednesday, the company has joined a growing list of Indian companies that lost money in overseas acquisitions.
Be it Mukesh Ambani, the Tatas, the Birlas or Sunil Mittal-owned Bharti Airtel, barring Tata Motors almost all companies have lost value by getting their timing wrong on their overseas acquisitions.

On Wednesday, Tata Steel announced that it would sell its British steel making business because cheap Chinese products were making Made-in-UK steel unviable.

In 2006, Tata Steel shook the global steel industry with its audacious bid of $12.7 billion for Corus Steel.
It was the biggest acquisition by any Indian company and is also among the worst performers in creating value for shareholders since the acquisition.
Within months, Kumar Mangalam Birla's Hindalco announced a $6 bn bid for aluminium product maker Novelis.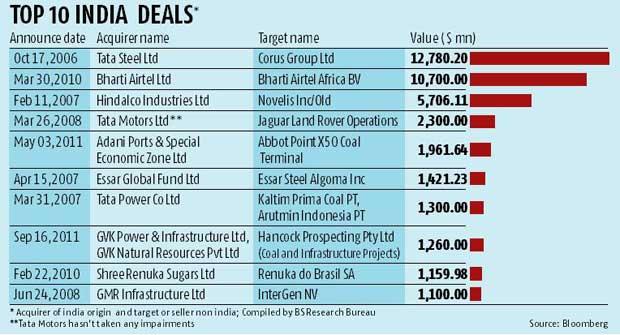 Bharti Airtel announced a $10.7 bn bid for Zain's African operations in 2010. Over the years, Hindalco, Bharti, Tata Steel had to write off investments.
The silver lining is the Jaguar-Land Rover acquisition by Tata Motors and Taro by Sun Pharma, which resulted in good returns for shareholders.
Experts say Indian companies failed mainly due to the 2008 financial crisis and more recently due to the commodity and oil crash.
Mukesh Ambani's Reliance Industries, which invested close to $8 bn in shale gas joint ventures in the US is getting negative returns on its investments.
The oil crash worldwide has made shale gas exploration unviable and Reliance Industries is looking at ways to cut its losses.
India Inc loses billions in foreign buys While Ambani was hit by falling oil prices, the Adani group lost money due to declining coal prices.
The acquisition of the Abbott Point coal terminal in Australia for $2 bn has not done well with the port running at 54 per cent of its capacity.
The fall in coal prices to a historical low has led to many companies cancelling investments in new coal mines in Australia.
The Adani group's plan to mine coal in Australia is also awaiting financial closure.
The GVK group is also in the same boat after it acquired the Hancock coal mine for $1.2 bn in 2011.
"With global commodity prices moving down sharply and markets being inundated with cheap imports, the viability of several industries has been challenged. This has been a double whammy for companies with assets overseas as they have been buffeted in both the domestic and global markets. Lowering costs becomes difficult as it is not possible to go in for major staff cuts, and several companies have had their profits pruned," said D R Dogra, CEO and MD of Care Ratings. Experts suggest Indian companies should be judicious in acquisition abroad and sell their foreign assets.
Besides, companies need to maintain the right blend of business from domestic and overseas operations and build their value-at-risk models accordingly.
"This way they will be able to carry the losses on the consolidated balance sheet for a prolonged period until things turn around," said Dogra.
Most of the Indian companies are already taking steps to cut their losses.
Bharti Airtel demerged its tower business in Africa and sold 8,300 towers for $1.7 bn last October. Reliance Industries sold its Eagle Ford pipeline asset for $1.07 bn last June.
The Adani and GVK groups have frozen their investments in their new coal mines in Australia.

Suzlon sold its German subsidiary Senvion (earlier known as Repower) for Rs 7,200 crore in January last year.