The government on Tuesday took a firm stand on protection of intellectual property rights (IPR) and the aspect of data exclusivity for drug manufacturers saying that the country would not extend data exclusivity that would hamper the domestic pharma industry.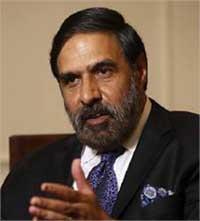 This was asserted during a meeting of consultative committee of the Parliament on challenges in Intellectual Property Rights-international and domestic, which was chaired by minister of commerce and industry Anand Sharma.

"India does not provide data exclusivity for pharmaceuticals and agro-chemicals which is in the paramount interest of our generic pharmaceutical industry as grant of data exclusivity would have considerable impact in delaying the entry into the market of cheaper generic drugs," Sharma said in the meeting.

Data exclusivity provides protection to the technical data generated by innovator companies to prove the merit of usefulness of their products.

In the case of pharmaceuticals, it means the data generated by drug companies through expensive global clinical trials to prove the efficacy and safety of their new medicine.

By gaining exclusive rights over this data, innovator companies can prevent their competitors from obtaining marketing licence for low-cost versions during the tenure of this exclusivity.

Indian drug firms that make generic versions of innovator medicines get their approvals after proving that their product is bio-equivalent to the original drug.

In other words, they do not repeat the same clinical trials conducted by the innovator company to generate data needed to prove its safety under current laws.

Under the India-EU Free Trade Agreement (FTA) which is currently under negotiation and is expected to be signed within the next couple of months, the EU had been insistent on having an exclusive chapter on data exclusivity while the Indian negotiators have been denying giving any relaxation on this.

This has raised widespread concern amongst the domestic drug makers.